This Portable Coffee French Press Can Withstand The Great Outdoors
Because nature is annoyingly bright-eyed and bushy-tailed.
by Dave Baldwin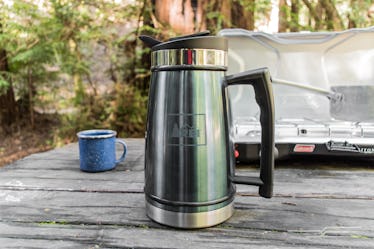 Just because Starbucks refuses to put an outpost in the middle of unspoiled wilderness doesn't mean you have to sacrifice delicious, well-brewed coffee on your next camping trip with the family. And just because you have absolutely no intention of going camping with your family doesn't mean you can't make use of this portable French press from REI. Because you know what requires coffee-making gear rugged enough to survive the great outdoors? Any house with your kids in it.
RELATED: Best Coffee Products for Dads
There's no weird, survivalist know-how that you need to operate this thing. No stoking a fire of moose droppings to boil or fjording ice-cold whitewater to fill it — it works like every other French press you've ever used (and will survive moose and/or river fjording without shattering).
The REI Table Top features 2 filters, one in the plunger and one in the spout, so there are no grounds in your cup! (You were almost roughing it for a minute.) The press only weighs 1.5 pounds and is built from rugged "vacuum-insulated, double-walled" stainless steel. That will keep up to 4 cups of coffee warm for up to 4 hours, which is exactly how long it takes you to put up a tent. Or put your kid down for a nap.