Cooking With Whiskey: 6 Recipes That Use Bourbon, Scotch, and More
From pan-roasted steak with a bourbon deglaze to scallops bathed in whiskey, here are six recipes to try.
by Nicholas McClelland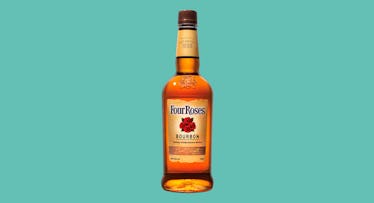 Wine certainly has its place in the kitchen. But it's by no means the only alcohol to use in the kitchen. If you're a whiskey fan, there are plenty of ways to incorporate bourbon, rye, or Scotch into your dishes. Just like other spirits, whiskey adds loads of flavor and depth to your food.
"I love cooking with whiskey even more than wine because it lends itself to so many more dishes from savory to sweet," says chef and author Maureen Petrosky. "You can infuse everything from appetizers to dessert with a little whiskey and it will always elevate the dishes and create unique layers of flavor."
Robert Ramsey, chef and instructor at the Institute of Culinary Education also agrees. While he does caution that you do need to be aware high-proof booze can catch fire and that, if you have under-age diners at your table, you need enough time and heat for the alcohol to evaporate. (Cooking off the alcohol also in helps eliminate the "burn" on your palate.) But, when used properly, says Ramsey "whiskey adds a depth of complex flavor that can truly elevate dishes."
Just as with wine or beer, you want to cook with a whiskey you enjoy drinking. It doesn't have to be an expensive bottle, but if the spirit itself doesn't have flavors your enjoy, you're not going to want to eat the food. If you're ready to start cooking with whiskey, here are a few ideas, recipes, and bottles to get you going.
Pan Roasted Steak with Four Roses Deglaze
Use: Four Roses Bourbon
"While most people immediately think of dessert when cooking with bourbon due to its pronounced vanilla, buttery oak, and caramel flavor profiles, it's great for savory preparations as well," Ramsey says. "Next time you sear a steak, try deglazing the pan with a rye-heavy bourbon like Four Roses. The spicy-sweet flavor profile adds an intense richness to pan roasted meats and compliments the flavor of black pepper perfectly." Cook your steak to your desired temperature and spoon the pan juices over the top.
Apple Pie and Whipped Cream with Scotch
Use: Balvenie 14 Caribbean Cask
Want to elevate your traditional apple pie? Try adding a half cup of The Balveine 14 Caribbean Cask to your usual filling and pre-bake it in a cast iron skillet for 20 minutes or so to reduce and cook off the alcohol in the Scotch Fill your crust as normal and bake. The tropical fruit, honey, vanilla and toffee notes add depth and dimension to this classic desert. For an indulgent, adult twist add a shot or two to fresh whipped cream for the top.
Chili with Campfire Whiskey
Use: High West Campfire
Some like to spice up their chili with extra heat, but you can also kick up your's with a big flavorful whiskey. High West Campfire works deliciously in the classically slow cooked stew. After you've gotten all the other ingredients in the pot add 3/4 of this bourbon-rye-Scotch blend and simmer for a few hours per usual. The whiskey's intense smoke flavor, along with notes of pepper, leather, and brine make the slow-cooked stew all the more tasty.
Brisket with Bourbon
Use: Booker's Small Batch Bourbon
We love smoked brisket, and nothing goes better with barbecue than bourbon. After about six or seven hours, when we're ready to wrap the meat for the final hours of your cook, we like to add a couple of doubles of Booker's along with some stock and a little more rub. The whiskey's sweetness and spice-rich profile adds an extra layer of flavor to meat and the aroma is down-right magical. Of course, once you get your brisket back on the grill, go easy on refilling your glass, you've still got hours to go before you're eating.
Seared Scallops with a Cracked Pepper Jack Daniels Whiskey Cream Sauce Recipe
Use: Jack Daniels
For more those with a bit of experience in the kitchen and ready for a more ambitious challenge, Maureen Petrosky offers this recipe that will delight seafood and whiskey lovers.
Ingredients
Extra virgin olive oil
1 tablespoon minced shallots 1/4 cup Jack Daniels Whiskey 1/2 cup of heavy cream 8 large sea scallops Coarse salt and freshly cracked pepper for seasoning Vegetable oil for searing 1/4 cup of unfiltered apple juice 1 large clove of garlic minced 5 ounces of spinach leaves
Directions
In a large heavy bottomed sauté pan, over medium low heat, add 1 Tablespoon of extra virgin olive oil. Add the minced garlic and cook until soft. Add the spinach in batches, until wilted. Season with the ½ teaspoon of salt and add freshly ground black pepper to taste. Remove the spinach from the pan and reserve.
Increase the heat to medium high. In the same pan, add 1 ½ teaspoons of extra virgin olive oil to the pan. Add the minced shallot and cook until translucent. Add the whiskey. Be careful, this is very high in alcohol and it may light. Reduce by half and add the cream. Bring back to a boil for one minute. Remove from the pan and reserve.
Wipe out the pan and place back over high heat. Add enough vegetable oil to coat the bottom of the pan. Season the scallops with salt and freshly cracked pepper on both sides. Once the pan is hot add the scallops. Sear on each side for about 1 minute, or unitl golden brown. Place a circle of spinach in the center of each plate. Top with 2 scallops and spoon the cream sauce around the spinach.
Mission Figs Cooked in Rare Cask Macallan-coffee syrup, Served with Smoked Mozzarella Olive Oil and Basil
Use: The Macallan Rare Cask*
Chef Luis Jaramillo of Fifty in New York City has been collaborating with The Macallan on "dinners developing an experience that unifies food and spirits," using infusions, pairings, and other experiments. One of the results was this recipe for mission figs cooked in The Macallan's Rare Cask, which is both decadent and one of his personal favorites.
*You can substitute The Macallan 12 Sherry Cask as a less costly option. We like Macallan 12-year.
Rare cask Macallan syrup
Ingredients
4 cups mission figs cut in half
1 cup The Macallan Rare cask single malt scotch whisky 1 cup expresso coffee 1 tablespoon instant coffee any preferred brand 1 cup sugar ½ cup maple syrup 1 vanilla bean
Directions
In pot bring The Macallan Rare cask single malt scotch whisky to a boil, preventing the alcohol to flame turn heat to a simmer, add coffee, sugar, maple syrup, vanilla bean and figs. Slowly simmer this this for about 30 minutes until the liquid will reduce to half to a syrup consistency and figs are cooked through. Garnish with a good olive oil, cracked black pepper, a sprinkle of sea salt, and basil