Razor Turbo Jetts Turn Your Kids Shoes Into Electric-Powered Rockets
These futuristic heel wheels can hit a top speeds of 10mph.
by Dave Baldwin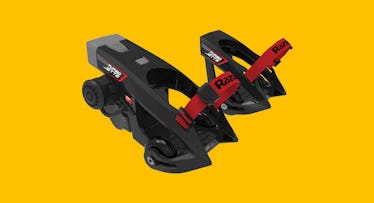 Nobody would argue that kids should run, jump, and play every day. Exercise is vital to raising a healthy child. But they can't run everywhere. And let's be honest, sometimes it's just more fun to high-tail around the neighborhood on pair electric roller skates.
Razor's new Turbo Jetts are essentially that, battery-powered heel wheels that turn ordinary sneaks into futuristic propelled shoes straight out of the Jetsons. To use them, simply drop in the 12V lithium-ion rechargeable battery, step into both "quick click" (adjustable) frames, and tighten the hook-and-loop straps. Of course, put on a helmet too ⏤ these things can hit a top speed of 10mph. They're designed to fit any pair of shoes size youth 12 through adult 12 and are targeted to kids ages nine and up (with a max weight of 176 pounds).
In terms of how they work, only one of the Jetts features a built-in 80-watt motor ⏤ although they can be worn on either foot ⏤ and to make it move riders simple start rolling and then lean back on the heel. It uses a remote-less, pressure-sensitive power control system to take over from there, riders just have to make sure not to lose their balance. To stop, simply pop the toe down to disengage the motor and transition into a walk. There is a learning curve, of course, and it may take a few tries to figure it out but once they get the hang of things, kids have about 30 minutes of ride time to cruise the block, do tricks, drive to school, whatever. There's a good video online to guide new users through the basics, as well.
While Turbo Jetts were on display at this year's Toy Fair, they're already available in stores and online for $130.