Radio Flyer's Ultimate Family Wagon Is The Best Family Vehicle I Own
The candy-apple red two-seater is the most versatile thing I've got in the garage.
by John Patrick Pullen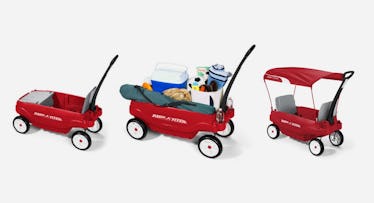 Almost ten years ago, I got a screaming deal on a 2000 Jeep Wrangler. It came with a hard top, a soft top, and even the two-seater bikini cover. I can still remember the feel of the shifter in my hand. I loved that Jeep and promised myself I'd drive it into the ground.
RELATED: KidStance Pimps Out Off-The-Shelf Luxury Kid Cars
So, of course, my wife and I eventually had a baby — which meant the child seat-hostile two-door Jeep was sold off for a family-friendly four-door model. And then we had another — which meant her Mazda 3 sedan molted and became a Mazda 5 minivan seemingly overnight. But pound-for-pound and dollar-for-dollar, neither of these family trucksters is our most valuable vehicle. That honor belongs to our kids' Radio Flyer.
Technically named the "Ultimate Family Wagon," this candy-apple red two-seater is the most versatile thing we've got in the garage. Our go-to for trips to the neighborhood park, it's got a canopy to keep the skin cancer away, cupholders to keep us well-stocked in sippy cups, and seatbelts to keep my toddler in the moving vehicle at all times. If we opt to hit the farmer's market instead, a big, bulky storage bag has our back, hanging off the wagon's rear-end, protecting our produce from happy-and-you-know-it stomping feet.
With a toddler and a crawler, our family is still young, which means we're still in the honeymoon period with this $149 caravan. But last weekend, with the boy badly in need of some swing-and-slide time and his baby sister fussing over a daycare-induced head cold, the Radio Flyer Ultimate Family Wagon really earned its stripes.
We loaded up the family for the 20-minute trek to the park — an endeavor that itself took 30 minutes of packing and shepherding, buckling up the baby, making sure the diaper bag was fully stocked (we forgot tissues, of course), and negotiating with the toddler to accept a rear-facing seat. And then, once we got to the playground, the baby's fussing was a clear cry for naptime. By folding the Radio Flyer Ultimate Family Wagon's seats two down into a flat surface, the wagon transformed into a rolling bed, giving her the rest she needed while my son got in an epic game of hide-and-seek. And when playtime was over, we rolled her home with little fuss, the bumps in the sidewalk rocking back and forth like, well, a baby.
The Radio Flyer's seats flip in a number of other ways that I'm sure will come in handy later. You can turn one seat into an activity table, which will be perfect for the little one to play on during the older child's soccer game, for instance. Flip that seat the other way, and you've got some covered storage. Remove the chairs altogether, and you can haul just about anything. And with its hollow plastic, waterproof construction, I can even imagine filling the Radio Flyer with ice and beverages, fulfilling its party wagon destiny.
Even without me at the helm (or the handle), I can foresee our family's Flyer at the center of many adventures. After all, my son already has a perfectly-sized BB-8 pillow pal just waiting to be loaded into the back as a co-pilot, and I've quietly collected a few Rebel Alliance stickers that would look great on the wagon's fuselage, er, side. But that's just one dad's dream. When the kids are old enough, I don't care what they do with our wagon — as long as they drive it into the ground.
This article was originally published on