The Tesla Model S Now Comes In A Kid-Sized Electric Vehicle
They'll be leading the charge.
by Dave Baldwin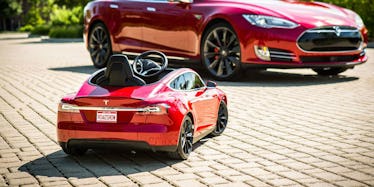 When you were growing up, the neighbor with the Power Wheels Jeep was the boss. That kid is probably a used car dealer now. Because it's never too early to start fostering a child's sense of entitlement, the red wagon specialists at Radio Flyer have teamed up with Elon Musk (in the branding sense) to build quite possibly the greatest electric luxury kid car to ever roll off the toy car assembly line.
For only $71,000 less than the grown-up model, your 3 to 8-year-old (who weighs less than 81 lbs) can zip around the neighborhood in a miniature, battery-powered replica of the Tesla Model S. It looks almost exactly like the one not parked in your driveway. The base model's equipped with all the bells-and-whistles that kids have come to demand in their luxury vehicles: Forward and reverse, a trunk, a working horn and headlights for night riding, and a sound system/audio jack. But what you're really looking for in a cul-de-sac cruiser is a fast-charging, lithium-ion battery that lasts way longer than the Barbie Corvette (1-2 hours). In fact, at a top speed of 6 mph, your mini-Musk can get as far as 9 miles from home on a single charge before realizing they forgot their lunch on the counter. (Dammit, not Qdoba again!) Like the adult version, it's also customizable: you pick the color (red, deep blue, midnight silver) and type of wheels (silver or matte black).
It wouldn't be a Tesla without some air of pretension. This "toy" comes with a few items that even a Maserati dealership didn't upsell you on: Authentic branded car cover, a parking sign to keep Mom out of their spot in the garage, and a personalized license plate. Just steer them away from STRTUPKD.
This article was originally published on