Radio Flyer's Landspeeder Will Make Your Kids One With the Force
The Force is strong with this vehicle.
by James Wohr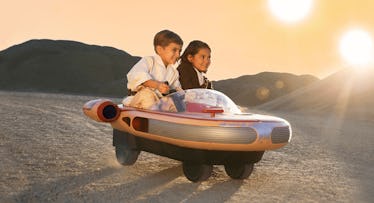 Want to send your kids to the Tosche Station to pick up some power converters? Or just, uh, around the cul-de-sac in Star Wars? Radio Flyer has you covered. In what is perhaps the greatest release from Comic-Con, the company announced their upcoming X-34 Landspeeder. A kid-sized recreation of the hovercraft Luke Skywalker used to cruise around and check out those Tatooine sunsets, the ride lets kids hover over sidewalks at speeds up to 5mph.
RELATED: The Best Star Wars Toys of All Time, Ranked
Technically speaking, the Landspeeder doesn't hover — it rides on wheels. Not that that doesn't do anything to diminish how friggin' cool it is. It rolls at speeds of either 2 or 5mph and also goes in reverse in case there are Storm Troopers that need to be avoided. It has an interactive dashboard with buttons that light up and plays sound effects from Star Wars: A New Hope. Here's hoping one of them plays the honk-scream of Tusken Raiders for some added effect.
The Landspeeder has two seats and a maximum speed of 5 mph, with gear switching options for 2 mph forward and reverse, so you won't have to worry about your kids actually flying into the nearest star system (or, more realistically, your neighbor's front yard). Sadly, the Landspeeder only has a maximum weight capacity of 130 lbs. and is recommended for kids four and up, so indulging your own Star Wars fantasies will have to wait until Radio Flyer releases an adult-sized model. Luke Skywalker's Landspeeder costs $500 and is available online.
This article was originally published on