This Stylish Kid-Friendly Water Bottle Collapses To Fit In Your Diaper Bag
And like Kimmy Schmidt, it's unbreakable.
by Dave Baldwin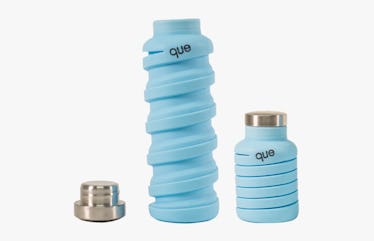 No matter what size or style of diaper bag you inevitably buy, one thing is certain: It's going to fill up fast. And at some point, you'll have to decide how many Little People you really need to tote to the library. Now, you'll never be tempted to jettison baby's water in favor of the entire collection (no matter how hard a sell they put on). The Que is a space-saving silicone bottle that uses a corkscrew design to collapse down to half its size. So yeah, you could definitely say the inventors are putting a new twist on an old idea.
RELATED: The 16 Best Beach Gear to Help Make Your Next Beach Day Go Smoothly
Actually designed by a couple of fashion-conscious, music enthusiasts eager to help reduce the use of plastic bottles at festivals (and look good doing it), the Que is billed as a "fashionable and collapsible water bottle." It comes in 20- and 12-ounce sizes (the smaller being pitched at kids and travelers), is safe for hot and cold liquids, and features both a leak-proof stainless cap and a wide mouth. And because it's made of food-grade silicone, it's like Kimmy Schmidt and an M. Night Shyamalan movie — totally unbreakable. It's also shockproof, so feel free to speak your mind in front of it.
Finally, the Que is all about "matching your style" and, hopefully, your new diaper bag. It comes in 4 fresh colors: glacier white, sunbeam orange, iceberg blue, metallic charcoal. The only thing it doesn't do is come … well … now. They're still wrapping up/dominating their Kickstarter campaign and are currently only accepting pre-orders for holiday delivery.
This article was originally published on