Meet "6Dad", The Drake-Loving, Twitter-Beefing, Surrogate Father of Toronto
Toronto's City Councillor and adopted 6Dad sits down to talk about his new clothing line and being an internet sensation.
by Dave Baldwin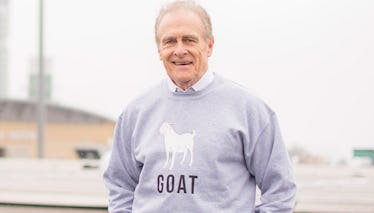 Norm Kelly can't walk down the streets of Toronto, Canada without somebody yelling "Dad!" at him. A former member of Parliament and 20-year Toronto City Councillor who served briefly as the city's mayor during the Rob Ford scandal in 2013, Kelly's a recognizable face. But that's not why they yell: the 75-year-old is better known as "6Dad", a fatherhood-fronting social media sensation with more than 500k Twitter followers.
RELATED: John Legend is a Father of the Year Honoree
A prodigious tweeter (since 2010) and huge fan of beloved hometown star Drake, Kelly gained international notoriety in 2015 when, to the delight of hip-hop fans across Canada, he injected himself into a Twitter-based rap battle between Drake and Meek Mill. Kelly trolled Mill hard, and with each new attack, the legend (and memes) grew. As Drake dubbed himself "the 6 God" in a shout out to Toronto's 416 area code, Norm became its "6Dad." Millenial voters loved him, and he proudly embraced the role of adopted dad to the city's 6 million residents.
ALSO: John McDaniel is a Father of the Year Honoree
It also didn't take long before several local companies started using his likeness on clothing: sweaters, shirts, and hats with slogans like "We The Norm" and "Too Lit Too Politic." Kelly was happy to oblige so long as he got design approval and a portion of the proceeds was donated to charity. One of those companies, 6Dad, recently unveiled a new collection called "Dad" which fittingly ⏤ considering Kelly likes to emphasize Toronto's multiculturalism ⏤ comes in five languages. Fatherly spoke to Kelly about the new clothes, the 6Dad phenomenon, and his massive social media following. It didn't take us long to see why all the kids love Norm.
Tell us exactly how you became the 6Dad?
When I ceased being deputy mayor of Toronto, I had to get a new Twitter handle. And the new handle was @Norm. As I began tweeting in the style I had decided to adopt, I was getting responses that addressed me as 'Dad.' And I finally put out a tweet saying, "Why are you all calling me dad, you've got your own dads?" Well, that just opened the door, the floodgates, I should say. And it was 'dad' from that point on. And then it became the 6Dad because of Drake, a Torontonian, gave Toronto a new nickname, and that's the 6. People began referring to Drake as the 6God and me as the 6Dad. There was no plan to become the 6Dad, it's just morphed as my millennial audience has grown over the last year and a half.
And what do you think of it?
It's fun. It really is. Being a politician is a serious sort of job, and it's nice to have a part of your life that really gives you a sense of having a good time with other people. A number of things have occurred in my life that were totally unexpected: One was to become the defacto mayor of North America's fourth largest city, and the second one was to become the 6Dad. I just rolled with both. I enjoy it.
It's still going strong now, right? How often do people call you Dad?
I'm talking to you right now from my office at city hall overlooking the square. If I walked outside and across the square, someone is going to shout out 6Dad and ask for a selfie. And I don't mind that at all. When I was the deputy mayor, people would stop me when I was out socially and thank me for settling things down in the city. That was the older generation. Today, it's the younger generation engaging with me on a totally different platform. I appreciate both and certainly enjoy the latter.
If these constituents are your kids, have you ever as a politician had to tap into your 'Dad' instincts and vote against something they didn't like? Sort of an 'eat your peas' kind of parenting thing?
The city of Toronto is the fourth largest city in North America as measured by population. Geographically, we're also a big sucker. But we weren't always like that. Twenty years ago we had a two-tier political system, we had six local governments, and an overriding metropolitan government that looked after the major things like policing and transit and social services. And because, in Canada, the cities are the children of the province, the government of the day 20 years ago decided to amalgamate the metropolitan and local governments.
Public opinion polls and petitions against that idea, as well as the referenda to stop it, showed that about 85 percent of the people were opposed to amalgamation. I was the guy who introduced the concept and defended it in every part of the city during that debate. It passed and the result has paid off. We've bulked up as a city and have been transformed from being Canada's premier city to being one of the premier cities in the world.
So you did indeed make them eat their spinach and they're stronger for it today.
You know, absolutely, you got it.
Tell us a little bit about the 6Dad clothing line. How did it come about, and how actively are you involved?
After my reputation, my online persona began to grow, a number of young men and women contacted me and said, "Hey, we've got some ideas we'd like to share with you." Most of them were around clothing ⏤ some of them were Halloween masks, others were bling. And they all wanted to get something out in the market. And my response was, first of all, to make sure they were putting out a quality product. And secondly, to let them know that my share of the take would go to charity. And it hasn't stopped. The stuff goes out. It's roughly the same handful of people who are moving along with it.
Do you have veto power over new designs?
Some of the things they propose I'm uncomfortable with. So, yea, everything has to be paraded by me. But you know what? These are incredibly creative, hard-working young men and women in the city of Toronto. This city has become a creative crucible for the entertainment and clothing industries. I once co-chaired the city's Fashion Liaison Committee. The music, fashion, all these things are woven together. And I'm really pleased to give these people a small hand up. We even put out a 6Dad beer.
Really, you can buy 6Dad beer now too?
No, it was part of a charitable drive. They brewed a certain batch and put it up for auction. And then the proceeds of that auction that I identify with.
Gotcha. Bummer. Well, are there are any new 6Dad products on the way, in addition to the hats, t-shirts, and sweatshirts? Can you give us a sneak peek?
They're continually bouncing ideas off me, but I have to say, right now we're just trying to take a pause. It's been pretty active, and a lot of stuff has come on the market over the last six to eight months. They're going to look at the numbers, consolidate, and take it from there.
By the way, what's your favorite 6Dad sweatshirt ⏤ the "Dad", the "Padre", the "Papa?"
Papa, because that's what I am to my grandchildren.
That's a good point. You're a father of two, correct? How do your kids feel about sharing you as a dad with the entire city of Toronto?
My kids are in the 40s, so it's the grandchildren who do the following. And they have bragging rights.
Any parenting advice or fatherly knowledge that you could share with our readers?
Well, I don't offer as much advice today as I did maybe 20 or 30 years ago. The life experience I've had, I'm not sure how relevant it is to what appears to be happening or will be happening over the next couple of decades. As a father, my basic rule was: Don't have a lot of rules. But the ones you do have, make sure that you enforce them. And the second thing is, love your kids. Enjoy them. Be there for them. Because by the time they hit 12 or 13, they're starting to move into a more separately lived life. So, enjoy them while you have them, love them.
And finally, we'd be remiss not to mention your Twitter following. It's enormous. Any tips to growing a huge social media following?
I made a number of decisions right up front that have helped shape its success. Although I couldn't have told you at the beginning how one defines success in terms of numbers. Basically, it's this: Be different. Know your audience. And have fun. And of the three, if you cease having fun, you have to think about doing something else.
This interview has been edited for brevity and clarity.