The Best Brain-Building Puzzles for Kids, Toddlers, and Babies
They're a key part of child development.
by Jon Gugala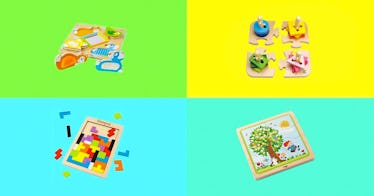 Despite a shiny, glittering array of new-fangled toys that promise to get your kid on a bioengineering career track before kindergarten, a good-old wooden puzzle for toddlers has as much STEM-boosting potential as any of them. "It's equally educational to bang two knob-shaped puzzle pieces together like cymbals, make up a story in which the puzzle piece mama and baby giraffe get lost, or stack the puzzle pieces into a tower," says child development expert Julia Luckenbill, who is the infant-toddler program coordinator at the Center for Child and Family Studies at UC Davis. "This is particularly important because adults tend to see one right way to use materials, while children are more dynamic in the way they think." The best puzzles for babies and toddlers build foundational skills and segue perfectly into more complex puzzles for older kids. In their older years, similar games can help build Key STEM concepts, including abstract thinking, logical reasoning, problem-solving, spatial reasoning, and math. And let's be honest: They're also a productive alternative to screen time and YouTube hopping.
To get the most out of baby puzzles, parents should be as hands-off as possible and let children, be it, babies, toddlers, and older kids, work them out on their own, taking whichever approach suits them and making the problem-solving process as open-ended as possible. Babies love putting things in and taking them out, so we chose puzzles that let them do just that, while also allowing them to practice their fine motor skills and hand-eye coordination. With toddlers, who can fit pieces into the right spot, the puzzles are somewhat more complex, and encourage them to develop their shape and color recognition skills, and as well as their spatial skills. Plus, they can use any puzzle for pretend play. As for older kids, it's brain-twisters, logic puzzles, and other dope STEM toys.
Every product on Fatherly is independently selected by our editors, writers, and experts. If you click a link on our site and buy something, we may earn an affiliate commission.
The Best Puzzle Games for Kids
The Best Puzzles for Toddlers
The Best Puzzles for Babies