Punch Recipes Fit For a Backyard Bash
For your next big gathering, ditch the time-consuming cocktails and make punch. Your guests will thank you.
by Nicholas McClelland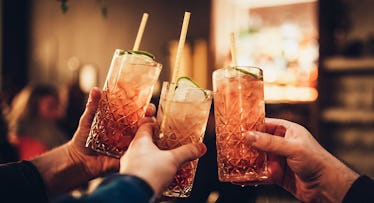 One of the keys to hosting a great party is to get as much done ahead of time as possible, so you can relax and get into the spirit of the shindig. There's not better place to save time and effort than with drinks. So for your next big gathering, ditch the cocktail service and pre-make a booze-y punch. It's easier for guests to get refills, easier to clean-up, you don't need anyone to tend bar, and, with the right recipe, a good punch is more complex than any cocktail you'll concoct. Start with these six recipes to fuel your next gathering.
Cohasset Punch
"This is a riff on a cocktail from the 1800's that originated in Chicago. No one knows the exact recipe, but it was something like a rum Manhattan mixed with canned peaches and lemon juice,' says Adam Peabody, Head of Mixology at LH Rooftop in downtown Chicago. "This recipe brings a modern approach to the drink with Plantation Pineapple Rum and the addition of sparkling wine."
Ingredients (Makes 8-10 Servings):
8oz Plantation Pineapple Rum
4 oz peach syrup
4oz water
3 oz fresh lemon juice
1 oz Sweet vermouth
¼ oz Angostura Bitters
1 bottle sparkling wine
lemon wedges for garnish
Directions:
Mix all ingredients except for sparkling wine in a medium-sized punch bowl and refrigerate for one hour to chill. Ladle into punch glasses and top with sparkling wine. Garnish each drink with a lemon wedge.
The Bitter American
"Punches are not meant to be strong; they are meant to be light and refreshing and sipped in the comfort of friends.," says Jack Keane, General Manager, Comfort Station in Cincinnati. "Time to allow the flavors to blend is always the secret ingredient to a great punch."
Ingredients (Makes four Servings):
8oz Campari
8oz Dolin sweet vermouth
7oz Polar Bitter Lemon tonic water
7oz The London Essence Bitter Orange and Elderflower tonic water
Directions
Mix and serve over ice. Garnish with lemon and orange slices. Serves four.
The Green Flash
"With a very fruit forward flavor, it's easy to drink, which is why we frequently make this recipe for our guests as a welcome amenity." John Onsa, Director of Food & Beverage, Renaissance Toledo Downtown Hotel, Brim House and The Heights
Ingredients (Makes 30-40 Servings
1 bottle of coconut rum
1 bottle of dragon berry rum
1 bottle of prosecco
Half a bottle of melon liquor
gallon of OJ
gallon of pineapple juice
12 0z Seasonal berries
Directions:
Mix all ingredients and serve over ice.
Hazy Summer Night
"There is nothing better than eating cold fruit on a hot day," says Chef de Cuisine John Lechleidner of WP24 by Wolfgang Puck at The Ritz-Carlton, Los Angeles. "The Hazy Summer Night balances citrus notes with tart flavors, creating a refreshing glass of summer."
Ingredients (Makes 10-12 Servings)
4c Pineapple, ½"dice
4c Watermelon, ½" dice
4c Cantaloupe, ½" dice
2c Passion fruit, with seeds
3c Watermelon juice
3c Pineapple Juice
2c Apple Juice
1btl Meyers's Rum
1bt Tito's Vodka
1bt Patron Silver Tequila
3c Mint Leaves, packed
2c Kaffir Lime Leaves, Smashed
2qt Mango Sorbet
2qt Strawberry Sorbet
Ice
Directions:
Combine all ingredients in a large container and serve.
Bermuda Goslings Rum Swizzle
The Goslings Rum Swizzle was created in 1932 at Bermuda's Swizzle Inn, Bermuda's oldest pub. At the time of its inception, the island's spirits inventory was limited, so they used orange, pineapple, and lemon juices along with falernum (substituted here with grenadine). It's a great blend of citrus, spice, and boozy flavors, and it's ingrained in Bermuda's culinary culture — the Swizzle is often referred to as Bermuda's National Drink.
Ingredients (Serves about 30)
1 Lt.. Goslings Black Seal Rum
1 Lt. Goslings Gold Seal Rum
64 oz. Pineapple Juice
64 oz. Orange Juice
5 oz. Grenadine
30 dashes of Angostura Bitters
Directions:
Into a pitcher ⅓ full of crushed ice add Goslings Black Seal Rum, Goslings Gold Seal Rum, pineapple juice, orange juice, Grenadine, and Angostura bitters. Churn vigorously until a froth appears or mix in a cocktail shaker. Strain into a martini glass.
Welcome to Ming River Punch
If you're ready to experiment with baijiu, BC Hoffman of Sassafras Saloon in Los Angeles has a solid recipe to try. "This punch is delicious because it pairs really well with the baijiu and is a way of introducing it nicely to beginners of the spirit."
Ingredients (Serves six)
9 oz Ming River Baijiu (Strong Aroma)
9 oz Grapefruit Juice
3 oz Salted Grapefruit Early Grey Syrup
3 oz Hibiscus and Mint Tea
Directions:
Combine all ingredients in punch bowl and serve with ice. Garnish with hibiscus flowers and mint sprigs.
To make the salted grapefruit earl grey syrup:
Take 2 cups boiling hot water steep for 10 minutes 4 Earl Grey tea bags and the zest of 1 whole grapefruit