The $25 Shield Ensures My Toddler Doesn't Burn Herself on the Stove
It's easy to set up and prevents her curious hands from touching to the burners.
by Dave Baldwin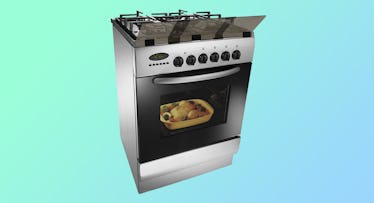 My toddler, because she is a toddler, likes to grab things. And she has a bad habit of grabbing things off the kitchen counter. When it's a carton full of blueberries, it's cute. When it's a dish towel covered with pint glasses and they come crashing down on her head, not so much. If she could reach a glass or basket of berries that easily, what was to stop her from pulling down a pot of boiling water off the stove? Or laying her hands on a hot, smooth-top burner. I was constantly worried. Then, my wife and I were gifted the Prince Lionheart stoveGUARD, a simple plastic barrier that brought serious peace of mind.
While there are a handful of stove guards on the market from different companies, they're all pretty much the same: A flat plastic or metal shield that attaches to the top or front of the stove and blocks access to the burners. A few tilt outward to cover the oven knobs and put more distance between the plastic and a hot burner, while others stand tall like a fence or fort wall surrounding the stove. They all work on either gas or electric ranges, but they all don't always fit ⏤ it depends on the layout of the oven door. Be sure to check the design before you buy.
The $25 Prince Lionheart is a frosted brown shield that affixes to the front of the stove above the oven door and tilts outward. It stands five inches above the counter and comes in three interlocking sheets that slide together in order to both adjust to the length of any 24- to 36-inch stove and remove for cleaning. Installation was easy and required simply affixing three mounting clips to the stove front using pieces of double-sided 3M tape. It's important to make sure the surface is clean, though, even going so far as to wash with alcohol. That's key, as a lot of online reviewers note they had trouble getting the tape to stick. After the mounts are secure, simply slide the plastic sheets in ⏤ that's it. Overall, the shield went up in a few minutes and left me wondering why I had delayed installing it at all.
Now, despite still grabbing crackers and cups off the counter, my daughter doesn't venture anywhere near the guard, nor has she tried to take it down. Although I assume if she wanted too, it wouldn't be that tough. It is held with tape, after all. She's old enough now to understand not to touch the stove, but I appreciate the added peace of mind.
If I had a complaint, it's that, because the guard stands above the counter, I'm still apt to bump pots or pans into it when putting them down. That's going to be the case with any guard, however, and that's obviously on me. As for the Lionheart, specifically, the biggest issue by far is the tape. More likely than not, it will need to be replaced after a few months. Ours did, after the shield randomly fell off one day, and too many reviewers to count say the same thing. It doesn't detract from my appreciation of the product, it's just something I accept. And if re-sticking new tape is the price I have to pay for not rushing my daughter to the emergency room with first degree burns, it's one I'm willing to pay. Now if I could only get her to stop breaking my damn pint glasses.
This article was originally published on