This Portable Camping Stove Is For Serious Design Snob Fathers
It's hotter than the food.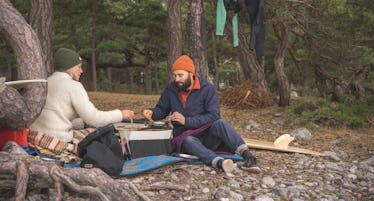 Here are two aspirations you might relate to as a parent: You want to take the kid camping because you want them to lead an adventurous life; and you want to own a lot of beautifully-designed Scandinavian products because, deep down inside, you want to live in a Design Within Reach catalog. Primus, a well-respected Swedish maker of camping gear, combines both aspirations into its Onja Stove.
RELATED: The Best Kids Camping Gear For First-Time Campers
The propane-powered Primus Onja Portable is appointed like a coffee shop hipster in twill, caramel-colored leather, and wood and looks so good you might be tempted to leave it on the counter so you never have to clean your actual stove again. The oak lid doubles as a cutting board and Primus makes a slew of complementary products — wood-adorned pots, pans, and utensils — if you really do give up on the whole camping thing (or don't mind packing 20 extra pounds just so you look all Design Within Reach in the woods). And good looks don't trump performance: each burner puts out 10,000-BTUs, so if you do go camping you won't be able to blame dinner on a lack of heat horsepower.
The Primus Onja Portable is probably better equipped for tailgating, car camping, and park excursions than cooking in the wilderness. While it folds neatly into a rectangle, it's still the size of a laptop bag and weighs over 6.5 pounds. But if your idea of "adventure" these days means an afternoon outdoors with some lawn games, beers, and burgers, this stove will get the job the done, while making the whole scene look like a product shoot for Design Within Reach.
This article was originally published on