Amazon Is Having A Huge One-Day Sale On Power Wheels
Get that holiday shopping done early.
by Dave Baldwin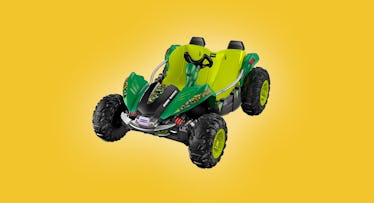 Jeep Wrangler. Barbie Corvette. Back in the day, those were pretty much a parent's only two options if they were buying their kid an electric ride-on car for kids. These days, it's a whole different story. Not only does every luxury auto manufacturer from Tesla to McLaren to Ferrari build pint-sized vehicles for tikes, but the original Power Wheels also sells a huge fleet of sweet new kids cars. And today on Amazon, the latter is slashing prices like a dealership during a year-end closeout sale.
What's it going take to put your kid in a rugged 12-Volt Ford F-150? How about sticker price of $140, because that's what they're selling for. And that's not even the best deal. The biggest scores are the Dora & Friends Jeep Wrangler (down to $220 from $306) and the Teenage Mutant Ninja Turtles Dune Racer, which has been slashed to $210 to $290. Also, it may not be a Corvette, but the Barbie Ford Mustang is on sale for $250, down from $330.
All told, Fisher-Price is unloading six different style vehicles ⏤ many of which are heavy on the TV/movie-branding ⏤ including a Paw Patrol Kawasaki KFX ATV and a Frozen Mustang. There are also a handful of those fun two-wheeled, joystick-controlled Wild Things. They can hit 5 mph, have traction control for off-road driving, and bust out 360-degree spins. Which is also what your kid's head is going to do on Christmas morning when they see a Power Wheels under the tree.
This article was originally published on