5 Power Tool Gifts For The Renovation Pro Of The House
Gift ideas for every kind of builder in your life.
by Brendan McGinley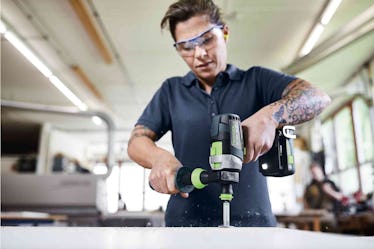 Regardless of experience or skill level, there is a small part of each and every handyperson out there that believes they are just one more productive month or professional tool away from converting their love of craftsmanship into a full-time career. This holiday season, you can help them get one step closer with a gift from Festool.
Precision-engineered for expert performance and hardy enough to deliver even with years of daily use, Festool products are intuitive for beginners and pros alike. If your household construction aficionado stays firmly planted in the hobbyist zone, Festool will make each project easier and more exact. If they're at the level of renovating the entire kitchen solo or have a profession that requires the use of power tools, Festool will surely upgrade their work. Here are our picks for the most useful Festool products to boost each build's quality and speed. And if that's not what professionalism looks like, what is?
If a project requires tight fits, hard-to-reach fixtures, and a variety of fasteners, you may be in need of a quality ratchet. When you have to tighten something at a tricky angle, the Ratchet Systainer Set is a godsend. Its versatile options range from itty-bitty 20 mm by 25 mm bits up to an extensible half-inch reversible ratchet head that fits a broad range of metric and imperial sockets. Translation: Your favorite worker will always have the right fit for the job. Its heads tally a very high-end 60 to 72 fine teeth, ensuring easy action after just five degrees of swing. While we can't legally say that it turns a fastener with a hard stare, it might just feel that effortless. Finally, when you've got this many parts to ensure compatibility, they're easy to misplace, but the Ratchet Systainer system provides an easy and always-accessible container for organization.
Progressive project lovers value efficiency, economy, and effectiveness — stuff the PHC 18 Mobile Charging Station into their stocking, and they'll enjoy all three. This charger slots into the 18-volt battery pack common on Festool cordless power tools (excluding 3.1 Ah Ergo battery packs... sorry, sanders) to halve the weight and volume of a separate portable charger. The PHC 18 can charge three phones at once thanks to an inductive wireless surface, a USB-A port, and a USB-C. Your giftee will get about eight charges from a single battery when not using it to drill. That's enough power to listen to podcasts all day, put up a floor's worth of drywall stud and corner bead, and still text back when you ask about NYE plans.
When it comes to the perfect clamp, most seasoned builders will tell you they want a secure tool to help ensure perfect adhesive bonds, aligned cuts, and a strong anchor (while giving the architect use of both hands to create something truly beautiful). And yet, most won't tell you about how much time and energy they waste trying to fasten a clamp with screw jaws or long threaded bolts. Wouldn't it be great if you could just drop a clamp and get to the fun without fastening and fussing? Trust us, give your favorite builder a Quick Clamp MFT-HZ 80, and you'll give them speed, ease, and a happier crafting experience. With a work height of up to 3-1/8" or 80 mm, the clamp's hefty rods drop into the 20-mm standard hole found in Multifunction Tables and Mobile Workshops. From there, it's as easy as pressing a lever to secure the clamp, and they're off to the races.
Give the gift of no mucking around this season. Like the ratchet system, the Pliers Systainer Set keeps elbow grease within arm's reach for any situation. The four different styles allow you to tighten, loosen, bend, pry, grip, cut, strip, and otherwise pinch a project to any effect you need. And there's no need to poke around a toolbox for the right pair. The highly organized box of pliers uses a foam inlay for easy placement rather than snap-in-place plastic. In the time it took you to read this paragraph, you could have stripped three wires and angled some metal to spec with these pliers.
Using an all-purpose drill is one of the most fun parts of any construction job, and the QUADRIVE TPC 18/4 Cordless Drill does that job right. With four gears, this hammer drill provides power and instant efficacy for almost any rotational need or penetration. A stunning 40% torque increase from its previous iteration to 442.5 in-lbs ensures your builder will want the included side-mounted grip, though its KickbackStop function will keep them safe in any case by limiting rotational twisting in stubborn materials. For an instant holiday win, consider upgrading them to the two-battery set that covers all their power needs. It's truly the gift that keeps on giving.