Traeger's New Line of Portable Smokers Lets You Make Quality Barbecue Wherever You Roam
Smoke 'em if you got 'em.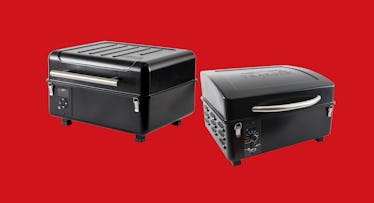 Want to hit a hunk of pork shoulder with waves of hickory smoke until its fall-apart tender? You, my friend, need a pellet grill. The style of grill is most convenient way to impart real smoke flavor to meat. But the problem is, most are generally hulking things that, unless you have a separate trailer, can't be hauled around that easily. A solution: Traeger, a company who knows their way around a smoker, is releasing a line of two new compact, portable pellet grills. Meaning? You can smoke brisket or make those famous ribs wherever you set your feet this summer.
The two portable smokers are named the Scout and the Ranger. The Scout is the cheaper and simpler of the two. It allows you to set the temperature in 25-degree increments using a simple knob. An LCD screen lets you know the current temperature inside the grill.
The Ranger, meanwhile, offers greater temperature control (5-degree increments) and adds some more bells and whistles. A built-in timer reminds you to sauce your meat and check on your food, while Keep Warm Mode allows you to eat when you'd like, not just when your food happens to be ready.
Both models come with a meat probe that lets you know the temperature of your food without having to open the lid. (This is key because opening the grill lets out heat, moisture and delicious, delicious smoke.) They also have metal latches for safe travel and porcelain-coated grill grates that are easier to clean.
Each grill also has 184 square inches of cooking space, which Traeger estimates is enough for one rack of ribs (mmmmm), six burgers, ten hot dogs or 100 asparagus stalks, are roughly the size of a small suitcase. The Ranger weighs in at 60 pounds — 15 more than the Scout — but it also has double the pellet hopper capacity. The Scout can hold four pounds of wood chips while the Ranger can handle eight. The greater hopper capacity means you can cook for longer in the Ranger, an important factor if you plan on using your grill for all day smoking affairs.
It's important to note that these things are powered by regular power outlets, so they're not great for the absolute middle of nowhere (unless you drive there and can plug into your car). If you do find yourself outdoors and near an outlet — or just have a small patio — these new models are
Every product on Fatherly is independently selected by our editors, writers, and experts. If you click a link on our site and buy something, we may earn an affiliate commission.
This article was originally published on