This Portable Fire Pit Lets You Take the Party Anywhere
Now you can take the fire anywhere.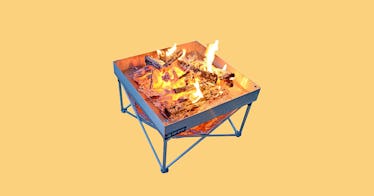 Winter fires go in your fireplace, and they're great for keeping your house warm and creating that classic Christmas vibe. But it's almost summer now, and that means it's nearly time to take the flames outside. And while you can build a fire on the ground the old-fashioned way, the pop-up fire pit from Campfire Defender Protect Preserve is a safer, easier way to enjoy no-trace fires all summer long.
The fire pit weighs just eight pounds and comes in a carrying case with a shoulder strap, so it's easy to take wherever you're going to set up your campfire. To set it up, simply unfold the aluminum alloy frame and slide on the four ember guards in parallel pairs before you rest the stainless steel mesh on the guards. This will ensure that when it comes time to clean up the ash you can lift up the whole assembly and dump it easily.
Finally, attach the heat shield to the underside of the mesh using the included velcro fasteners. All in all, it only takes a few minutes, and it gives you a dry, even surface on which to build your fire. No more searching the ground for a dry spot or clearing away debris before you can build your fire.
The assembled pit can hold up to 125 pounds of wood, and at two feet on each side it's big enough to fit the standard logs, so you won't have to waste time and effort further cutting down the wood you're going to burn. If you're feeling ambitious, you can even purchase grill grates separately that slide on top of the pit and turn it into an outdoor cooking surface, which is a particularly great feature if you use the pit to tailgate.
But the best part of the pit, and the reason to invest in it, is that it leaves no-trace fires. It elevates your flames above the ground, and the heat shield redirects the heat upwards so it doesn't damage the ground underneath. It's so effective that it's even approved for use on sensitive federal lands maintained by the Bureau of Land Management and the National Parks Service. And if those guys are okay with it, you know it must be safe.
This article was originally published on