The Dometic PLB40 Is the Ultimate Portable Battery for Off-the-Grid Adventures
The lightweight, compact battery packs some serious electric power.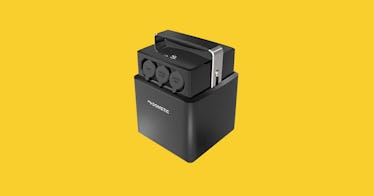 The problem with batteries is that they die. That's not a huge deal when your cell phone craps out on your evening commute, but it's a major hassle if you're camping in a remote location (i.e. not the backyard) or dealing with a prolonged power outage at home. That's why a big-ass battery is such a useful thing to have around. And its why we love the Dometic PLB40 Portable Lithium Battery.
The PLB40 weighs in at slightly more than 16 pounds and measures ten inches on its longest side. It's kinda hefty. But when we call it big-ass, we're not referring to its physical size or even its heft. We're talking about its capacity of 40 ampere-hours.
This capacity is just a bit less than the average car battery. But you can also think of it as 14.7 iPhone X charges or just over nine charges of the latest-generation Macbook Air. Dometic says its battery is good for a "weekend of power" for its CFX electric coolers. That's impressive on its own, and this power pack becomes even more useful when you consider its features.
The PLB can charge three different ways: via a car power outlet, a standard AC home power outlet, or its built-in rechargeable solar panel. So if you're off the grid in a bright area, this thing will last way longer because the sun will keep recharging the battery. It also has a built-in LCD display that shows capacity, charging status, and how much power is currently being output.
And while it's designed for the aforementioned CFX coolers, it can power other cooler brands and any other electronics you might have on hand. There are two dedicated USB-A charging ports and both 12-volt DC two-pin (like a standard plug) and 12-volt standard (like a car charger) sockets.
So if you're planning a trip off the grid or are just nervous a storm might unexpectedly put your house off the grid, the PB40 is a solid device to have on hand, a big-ass battery that could potentially save your ass.
Every product on Fatherly is independently selected by our editors, writers, and experts. If you click a link on our site and buy something, we may earn an affiliate commission.
This article was originally published on