PopUp Play Lets Kids Customize Their Own Cardboard Forts
Kids design their own online. Then, the finished product is shipped directly to your door for coloring and sieging.
by Dave Baldwin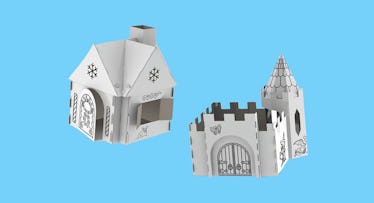 The beauty of play forts and castles ⏤ be they made of pillows, sheets, or cardboard ⏤ is that they spark a child's imagination. First, when they build them. And then when they assume their rightful place as king or queen on the throne. But what if kids could enhance their creativity ⏤ not to mention get some of those tablet skills ⏤ by designing their play fort in an app first? That's the idea behind PopUp Play, a line of custom-made DIY flatpack cardboard playhouses that kids design online before they're built in the living room.
Envisioned and (successfully) pitched on Shark Tank as a way to "bridge modern tech with imaginative play," the idea behind Austin-based PopUp Play is simple: Rather than let parents just order any old cardboard playhouse online and have it shipped to the house, why not let the kids create the fort they actually want? Using the Build Lab iOS app or web interface, kids can select either a castle or gingerbread house (a rocket, submarine, and cottage are all on the way) From there, they can add drawbridges, towers, and windows, as well as fun graphics (that can later be colored) like unicorns, dragons, and butterflies. When kids are finished designing, mom and dad simply drop in their credit card number and for $99 plus shipping, it'll show up at the door ready to assemble.
The castle measures 4′ by 4.5′, the tower stands 4.5′ tall, and it's all made out of interlocking .25″ craft fiberboard. It's also all white ⏤ again, so it can double as a coloring project. Finally, as it ships flat, it's also easy to break down and store in a closet or under the bed in between epic adventures through the Sherwood Forest that is your living room.
Every product on Fatherly is independently selected by our editors, writers, and experts. If you click a link on our site and buy something, we may earn an affiliate commission.
This article was originally published on