The Back-Saving, 'Piggy Back' Kid Carrier is 40 percent Off Right Now
All the piggyback rides, none of the back pain.
by Dave Baldwin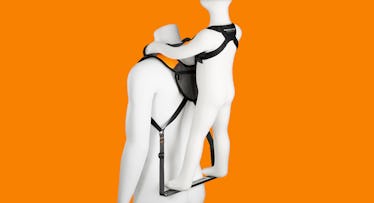 Piggyback rides: Fun for the kids, less so for the back. (Or the shoulders. Or the neck.) But not all rides have to end in a chiropractor's office. The Piggyback Rider is a standing kid carrier that allows parents to walk upright rather than hunched over while toting a child on their back. Even better, the Scout model is marked down to $90 on Amazon right now.
RELATED: The Best Baby Carriers For Dads
Designed to carry toddlers age 2- to 4-years-old and up to 50 pounds, the premise of the Piggyback Rider is simple: Parents wears the carrier like a backpack (hip belt included) while the kid stands on an integrated aluminum footbar on the back. For safety, the child is strapped into an attached safety harness and has four handholds (not attached to your face) to grip. The foot bar is also adjustable to the child's height and rocks a non-skid coating to help prevent slipping. The beauty of the Piggyback Rider kid carrier is twofold: First, the setup shifts weight off the back and onto the carrier's shoulders. Second, the kid can easily step on and off the bar rather than having to be removed from, say, a traditional hiking carrier where they're seated and secured. Plus, they get a dads-eye view of the world.
The Scout comes in orange or black and normally lists for $155 on the company's website.