This Giant Sloth Pool Float Is Lazy Summer at Its Finest
Make the sloth your summer spirit animal with this spacious pool float.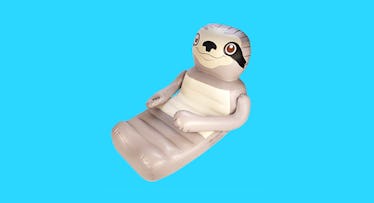 Ah, the sloth. A noble creature known for moving slowly and only when absolutely necessary. There's not a better mascot for lazy afternoons in the pool, which is why this sloth pool float is the perfect way to spend the rest of your summer afternoons.
From SwimWays, a leading manufacturer of water guns, floating coolers, and pool floats both absurd and traditional, it's no slouch when it comes to helping you slouch.
The float itself is 50 inches long, 40 inches wide, and about three feet long. It's constructed so that your head leans against the sloth's goofy smile, your feet are on top of where his would be, and his arms sit on either side of you.
The oversized sloth float is part of the company's Huggable line, so you can even the arms and pull them around you in a hug.
One arm has a cupholder, which can fit plenty of tree leaves, the sloth's principal calorie source, but is really built to hold a beer or cocktail that's being lazily sipped by a human with a more varied diet.
In addition to the sloth, the Huggables line also comes in panda bear and teddy bear designs. So if you have a total disregard for fidelity to natural reality — sloths live in central and South America, Pandas in south central China, teddy bears in your child's bedroom and imagination — you can get the whole set to maximize your group summer lounging time.
Speaking of time, summer is slowly fading away. So even though it's not very slothlike, we'd recommend you hurry up and buy this float to ensure you finish out the season as comfortably and lazily as possible.
Every product on Fatherly is independently selected by our editors, writers, and experts. If you click a link on our site and buy something, we may earn an affiliate commission.
This article was originally published on