Pomsies Are About to Dominate the Toy Aisle
After a big splash at Toy Fair, Pomsies are poised to be the hot toy this holiday. And they're finally available online.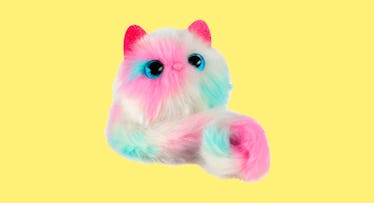 Every year, an overly cute toy with large eyes and interactive features takes over that Tickle Me Elmo/Hatchimal/Fingerlings mantle of hot holiday toy. This year, while it's early, our moneys on Pomsies, a glittery, interactive pet that looks like a ball of fur with eyes and a large tail. You have been warned.
Pomsies look like literal balls of fur with catlike features: pointed ears, giant eyes, a tiny nose and a mouth completely hidden by fur. They're designed to be cute. Instead of a torso, Pomsies have an adjustable, pose-able tail that allows kids to attach them to virtually anything: belt loops, backpacks, wrists, ankles.
But Pomsies are more than balls of fur you can move. They react to certain stimuli, purring when held and "fed" (when a kid pinches his or he fingers and presents them to the area under their noses where the mouth would be). Their huge eyes also glow different colors depending on their mood. Yes, they have moods.
The toy industry has long capitalized on the pet-wariness of many parents who don't believe their kids are responsible enough to care for another living thing. Digipets and Tamagotchis were big in the '90s, pocket-sized virtual toys that you had to feed and love lest they feel neglected and die. In more recent years, WowWee Fingerlings and Hatchimals have filled this niche. Pomsies, one of the trendiest toys out there, are their natural successors.
Pomsies are avilable in various iterations — Pinky, Boots, Sherbert, Blossom, Snowball, Stardust, Patches, Speckles, Pinky are all different colors. Their overly cute names match the dolls themselves, which look like literal balls of fur.
Pomsies are finally in stock online. Even if your kid doesn't want a dog or a cat, it's safe to say that he or she might start asking you for one. Take advantage of your chance to get one soon and be a hero to your kid.
Every product on Fatherly is independently selected by our editors, writers, and experts. If you click a link on our site and buy something, we may earn an affiliate commission.
This article was originally published on