The Polymega Lets You Play Video Games From Nearly Every Console Ever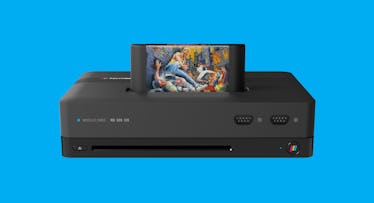 Gone are the days when nostalgic gamers had to dig around questionable corners of the Internet to play classic games. Atari, Commodore and Nintendo have all released retro consoles, and vintage games are available for download on modern consoles' digital storefronts. A new system called the Polymega is making a strong case as the most desireable retro console of them all.
The Polymega is a cross-compatible console with unique features that separate it from the first-party competition. The base system is a sleek black box with an optical disc drive that currently supports PS1, TurboGrafx-CD, Sega CD and Neo Geo CD, and there are plans to support disc-based games from other consoles in the future. An included wireless Bluetooth controller lets you control those games and navigate the Polymega's art-driven interface.
That's all pretty standard. The killer feature of the Polymega isn't the base. It's what connects to the base. Individual modules that connect to the base will allow players to plug in original game cartridges and game controllers (although using the Bluetooth controller will still be an option). Modules available at launch include NES, SNES, Genesis, and TurboGrafx-16.
The Polymega will scale all games up to 1080p, so they'll look great on modern HDTVs. It will also let you load games from cartridges directly onto the system (so you don't have to plug them in every time) as well as support streaming to Twitch, a great feature if you want to share your NHL 94 prowess with the world.
The base model will retail for $250 with individual modules available for $60. It is scheduled for release at the end of this year and should be available for preorder some time this summer. If the Polymega lives up to its promise, it could be a great choice for people who never got rid of their old games and want a sleek, reliable way to rediscover them. You can learn more about Polymega here.
Every product on Fatherly is independently selected by our editors, writers, and experts. If you click a link on our site and buy something, we may earn an affiliate commission.
This article was originally published on