This Melissa & Dough Orbiter is a Working Model of the Sun, Earth, and Moon
Be ready to answer questions about the moon's whereabouts during the day.
by Sal Vaglica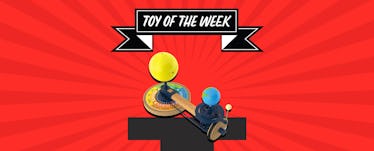 Earth science is far more engaging when kids play with three-dimensional models. It's one thing to read about the earth's orbit with arrows on the page or see planets as static colored balls in school. When things start moving, questions get answered and science becomes really interesting. This STEM kit arrives as a loose box of parts and hardware that your eight-year-old assembles with the included screwdriver. Once built, it uses movement to teach kids how the sun, earth, and moon interact with one another throughout the months and seasons.
Gears and a chain turn the moon and earth as they rotate around the sun. Children see how the earth's tilt creates the seasons. Parents might also need a refresher too, as to how high the sun is in the sky in summer compared to the winter, or why you can sometimes see the moon and the sun at the same time. The robust build is something they'd see in school and will stand up to playtime once the building is over.
Every product on Fatherly is independently selected by our editors, writers, and experts. If you click a link on our site and buy something, we may earn an affiliate commission.