Pixsweet Makes 3D Popsicles That Look Like Your Kid
Your move, Fudgie the Whale.
by Dave Baldwin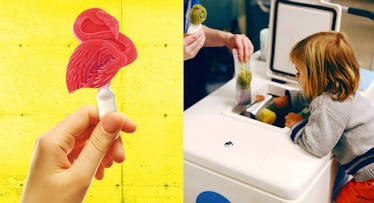 Throwing an outrageous birthday party for a kid used to be easy. A pony, a clown, maybe a bounce castle ⏤ that's all it took to ensure your progeny knew they were 'special.' (And their friend's parents knew you were doing well at work.) That's not the case today, where every 4-year-old's bash seems to feature a petting zoo and dinner catered by a local food truck. No, nowadays, it takes something bigger and better to stand apart. And while that probably wasn't on the minds of the folks at Pixsweet when they started selling their custom-3D-printed popsicles (or maybe it was), they've definitely stumbled onto a ready-made market.
RELATED: How To Get Your Kid Into 3D Printing Without a 3D Printer
Other than the thoroughly unappetizing tagline, "Taste the Internet" (gross), the idea behind Pixsweet is pretty cool. Although definitely outlandish in a first-world problems kind of way. It's essentially a service for people discontent sucking on boring old, ho-hum popsicles from the grocery store. "Heat be damned, I need a popsicle with some character." They want to lick a unicorn, the family dog, or a silhouette of Derek Jeter. Who knows. Either way, they can.
Similar to CopyPastry, which sells custom-made cookie cutters, Pixsweet prints popsicle molds (and then makes actual popsicles) in the likeness of any picture. All you have to do is link to an image online, upload one from Facebook, or choose a shot from their library and add some playful text. Then choose one of three flavors ⏤ Juicy Watermelon Citrus, Sweet Strawberry Lemonade, Tropical Mango Pineapple ⏤ and place your order. Apparently, the molds print in less than two seconds and are then filled with juice and flash frozen. The ice pops arrive at your door two weeks later in reusable coolers packed with dry ice, and need to go straight in the freezer upon delivery. Not home? Not a problem. They'll stay frozen for about eight hours.
And while it all sounds magical on a hot summer's day, the Pixsweet concept melts a bit when you hear the price: $5 a pop (sicle). Yea, not cheap. If you're cool with one of their designs and just want to impress guests at your next cookout, however, they sell themed eight-packs (wedding, pool, new baby!) for $20. For custom print jobs, though, say of your son's adorable mug for that big birthday party, there's a minimum order of 100 (plus $20 for shipping). Although, let's be honest: pair them with that new Jungle Jumparoo and your neighbor's got nothing this year.
This article was originally published on