Pixlplay Turns Your Old Smartphone Into An Unbreakable Kid-Friendly Camera
by Dave Baldwin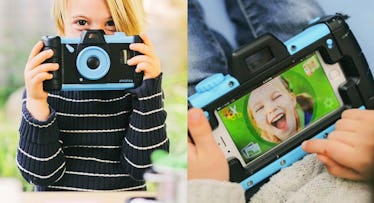 Look, you didn't spend $800 on that new iPhone so Junior could drop it on the driveway while trying to take a picture of the cat. No, for as much as you want to encourage your kids to be tech-savvy, and active, and artsy, you'd rather not hand over your expensive devices for them to learn on. Especially outside. So don't. With a $25 Pixlplay, you can teach your kids about photography using little more than that old smartphone you long since buried in the desk drawer.
RELATED: Best Apps To Organize The Most Important Data on Your Phone: Family Photos
The beauty of Pixlplay, a colorful plastic case that turns your phone into a kid-friendly camera, is that it actually answers two questions at once. First, what to do with the aforementioned old phone?; second, how do you introduce your kids (ages 3-and-up) to screens without turning them into zombies? With the case, all you have to do is pop in almost any old Android or iPhone, plug in the headphone jack, and close the kid-proof door. From there, you can unleash your future Ansel Adams into the wilderness to snap away. All they have to do is touch the screen (FYI: there's a built-in screen protector) or the working shutter button on top.
Designed by a toy industry vet and expecting dad (congrats!), Pixlplay boasts an easy-to-hold rubber grip, wrist strap, and clicking focus/film advance knobs that don't actually work but, hey, your kids don't need to know that. It doesn't require Wi-Fi, Bluetooth, Internet, 4G, 2G, anything ⏤ no need to connect all. Except, initially, to download the Pixlplay companion app, which allows kids to edit their pics and add special effects (from silly faces and picture frames, to "hats, mustache, glasses, ears, wigs and more!"). They can also use the smartphone app's photo activity generator (as well as accompanying activity sheets) to engage in fun projects/scavenger hunts designed to get them off the couch and out learning about photography. For the record, though, you don't need the app to use the phone ⏤ that's a bonus.
Pixlplay's already cleared their Kickstarter goal and if you pre-order today, you get to vote on what two colors they're going to produce. (Vote blue!) And considering the device should be in your kid's hands by the time they get out of school for the summer, you might want to start rummaging through the house for that old iPhone now.
(Pre-order for June)
This article was originally published on