Brio's Twist on Pinball Makes The Classic Game Fit For the Whole Family
Pinball is great, but it's not exactly built for family play. This version from Brio pits you against your kid.
by Sal Vaglica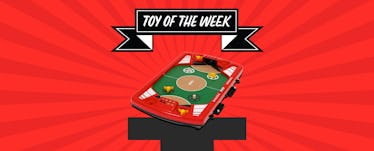 Arcade-style pinball machines are hard to beat. They might just be the perfect blend of physicality and electronica. Take a kid to an arcade and wait as they get sucked in by the hypnotic sound of the flippers. While portable pinball games try to replicate the gameplay at home, they, and the full-size originals, all have one drawback: they're not exactly family-friendly. Inevitably someone is waiting to play and it can be hard for two or more people to remain engaged. The Brio Pinball Challenge fixes that. Think of it as ordering a whole pie instead of pizza by the slice — more people can get in on the action.
The colorful Brio claims to be a mashup between pinball, hockey, and soccer. Really though, it's pinball with a twist for those six and older. It hosts two players who each have a pair of flippers, just like classic pinball. The field — or pitch, for Ted Lasso fans — is studded with four pegs. Leave those pegs bare and they add a challenge to the game by getting in the ball's way. Top some or all of those pegs with the yellow spinning paddles and now the ball's direction can rocket in any direction, even right back at the shooter.
The first person to five wins, so the games are short. They're so quick, a third player probably won't even mind being in charge of rolling the ball in after a score. This 21×14-inch game — about the size of a cutting board — will keep two kids entertained (hopefully) long enough for you to prep dinner. The gameplay is intuitive and it won't require any adult help to set up. All you have to do is make sure not to lose the metal balls and yellow spinners. No lights, no batteries, no KISS. But it will get the whole family involved and shouting.
Every product on Fatherly is independently selected by our editors, writers, and experts. If you click a link on our site and buy something, we may earn an affiliate commission.