Piccalio Is Here To Bring Open-Ended, Eco-Friendly Toys Into Your Home (That You Won't Mind Looking At)
We only recommend products we love and that we think you will, too. We may receive a portion of sales from products purchased from this article, which was written by our Commerce team.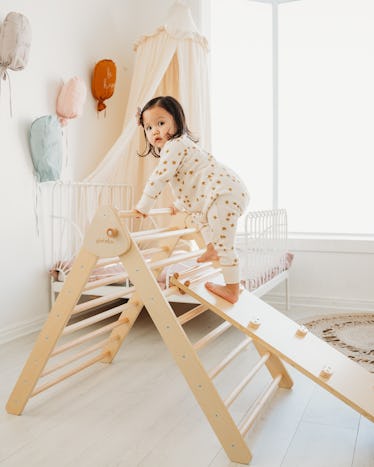 Piccalio
You just can't beat a great two-in-one concept. How did anyone manage without a phone case that's also a wallet? A backpack that's also a diaper bag? A shampoo that's also a conditioner? As for two-in-one products just for kids, that's where Piccalio comes in; the part-toy, part-furniture shop designs multi-use pieces that both you and your kid can appreciate. The sheer amount of stuff that accumulates due to one small human can be borderline obscene — and so a toy that also aims to work with the aesthetic of the home? That's what we call a game-changer.
Piccalio produces clever, open-ended toys and furniture that can serve as a foundation for play. The brand focuses on natural materials, which means you won't find a single plastic toy among Piccalio's line-up. Everything is functional, beautiful, and full of opportunities for kiddos to follow their curiosity.
Piccalio Fast Facts
Offers versatile wooden pieces that are designed to work for imaginative play as well as they work with your living space
Products are made from eco-friendly materials by skilled suppliers under controlled, safe, and fair conditions
Partnered with One Tree Planted, a nonprofit that supports reforestation
Piccalio's Best-Sellers:
You'll find an assortment of equally fun and stylish products among Piccalio's top sellers, but I'm putting a spotlight on some customer faves just ahead.
A Versatile Learning Tower That's Also a Table
Providing a safe place for your kid to observe, try, and learn, the Mini Chef Convertible Tower serves as a sturdy kitchen stool and can transform into a snack table with a few simple maneuvers. There's a safety bar on the back and an adjustable step so both you and your kid can feel totally confident.
This pick is available in four sophisticated hues, included natural, sage, and white. It also comes with a free Mini Wooden Cutter that's suitable for little hands.
According to a reviewer: "Overall, we love our tower! My son just turned 1 and loves being able to see and participate in the daily activities happening at the kitchen counter. He is still getting the hang of climbing in and out unassisted. I wish the platform was adjustable but I know he will grow into it as he gets taller in the coming months/year. We also love that the tower does multiple things and converts to a table."
Recommended Age: 1 to 6 years (or up to 175 pounds) | Materials: Premium birch plywood and pine | Ships: 3 to 7 business days | Dimensions: 36 by 16 by 16 inches (as tower), 17 by 16 by 36 inches (as table) | Available Colors: Natural, White, Black, Sage
A Mini Climbing Set With Reversible Rockwall & Slide
Be it the couch, the kitchen table, or the bookshelf, kids are gonna climb. You may as well provide the space to do it. The Pikler Climber Set was made for grasping and climbing and practicing these new skills. The set includes the Pikler Triangle and a reversible rockwall/slide ramp.
The climbing set functions as the perfect base for imaginative play. Drop a sheet over the Triangle and you've got a fort, a house, a hotel, or whatever else your kid dreams up. When it's time to close up shop, the set folds down to easily fit in small spaces.
According to a reviewer: "Very pleased! It came so quickly and in perfect condition. I was blown away. My daughter (14m) immediately took to it and I think its design really allows for self-teaching and self-correction in a safe way (with close supervision, of course). The quality and fast shipment alone will guarantee me as a return customer."
Recommended Age: 6 months to 6 years (or up to 132 pounds) | Materials: Birch plywood and pine | Ships: 1-3 business days | Triangle Dimensions: 30.5 by 27.5 by 36.5 inches (triangle), 40 by 14 inches (rockwall/slide ramp) | Available Colors: Natural
A Handy Mini Cutting Tool That Won't Puncture Skin
For eager little ones who always want to be involved in whatever you're doing, this wooden kids knife allows them to safely help out with kitchen prep. It has a curved handle that's perfect for small hands and a skin-safe blade that can cut through soft foods like bananas, strawberries, and bread with ease. This tool is made of attractive beech wood with a nontoxic tung oil finish. After each use, it should hand washed and immediately dried.
According to a reviewer: "My 3 year old always wants to help out in the kitchen, but I was always scared of him getting hurt. With this cutting tool I have no worries about him cutting himself on accident and I am excited for him to become more independent and helping me in the kitchen!"
Recommended Age: Not specified | Materials: Beech wood | Ships: 1 to 3 business days | Dimensions: 4 by 3.5 inches | Available Colors: Natural
A Sleek Learning Tower That Folds Up For Easy Storage
Brushing teeth, stirring batter, chopping fruit — this helper tower is there for everything. Keep your kiddo right by your side and safely perched as they participate in all the counter-level activities. When you're done, this tower stores seamlessly, folding away to slide into your pantry or closet.
According to a reviewer: "Our little guy, who is 14 months old, LOVES the helper tower and we do too. Not only does it allow him to be involved in the kitchen (without having to hold him all of the time) but it is also so beautifully made. We were in search for a kitchen helper folds up for storage and it was surprisingly hard to find. Ordering from Piccalio was a very easy process and they were quick to respond to any questions. Their products are very aesthetically pleasing and made very well- we are excited to have this kitchen helper for years to come."
Recommended Age: 1 to 6 years (or up to 175 pounds) | Materials: Birch plywood and pine | Ships: 1 to 3 business days | Dimensions: 36 by 18 by 18 inches (when fully expanded) | Available Colors: Natural, White
Browse the full selection of imaginative toys and more on the Piccalio site
This article was originally published on