Can't Fit a Full-Sized Piano? The Roland FP10 Smart Keyboard Is The Next Best Thing
It has weighted keys and amazing sound.
by Donna Freydkin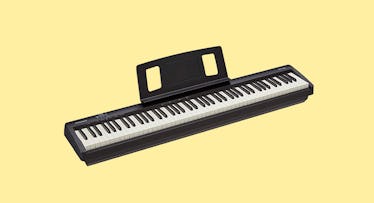 With so many piano keyboards around, it's hard to figure out which one worthy of piano lessons. But the Roland FP10 keyboard is an excellent option with some nice features to help kids learn how to play piano.
Music is itself a language, and every child can benefit from learning to speak it. But while the onetime means of doing this was carting your kid to a musty old walkup or buying an expensive piece of furniture for which you don't have the space, the best modern keyboards are affordable, intelligent solutions that feel and sound like the real instrument. One of our new favorites is the Roland FP10.
Like the entire keyboard category, the FP10's greatest strength is its size, or lack thereof. The weighs 27 pounds and is 20 inches long. It has the full 88 keys and also includes a sustain pedal, which is often a sold-separately addition. As opposed to impossible-to-move uprights or baby grand pianos, the standing keyboard is easy to both set up and stow in a closest after the lessons are over.
The keyboard is kitted out for lessons. It's Twin Piano Mode changes the notes so that students and teachers can play play side-by-side in the same octaves. And while there's no substitute for a good teacher, Roland assists through its free interactive Piano Partner 2 app, which features interactive tools to help your son or daughter gain proficiency.
As the weight of the keys are important for learning, Roland has homed in on is the feel. The FP10's keys are progressively weighted, providing little fingers a way to adapt to the keys of a traditional instrument.
Normally the addition of Bluetooth in a device makes use nervous. It often feels like modernity for the sake of modernity. But here connectivity serves an excellent purpose. Synced to a tablet or phone, the keyboard can stream YouTube or music services for your son or daughter to play along with their favorite songs or lessons. It can also connect easily to a MiDi device so it can be used to record compositions.
Sound-wise, the keyboard pumps out rich notes. And yes, it has a headphone jack so you don't have to hear all the practicing.
Whether you're a musician or you want your child to have the things you never did, the Roland FP10 is designed for the modern parent and the modern home. Smart, lightweight, and delivering exceptional tone, it's an instrument ready to open a whole new world to your son or daughter.
Every product on Fatherly is independently selected by our editors, writers, and experts. If you click a link on our site and buy something, we may earn an affiliate commission.
This article was originally published on