HomeSoap Cleans Your Germy Phones, Toys, and Gadgets in 10 Minutes
Spend less time on your daily sanitizing checklist.
by Jon Gugala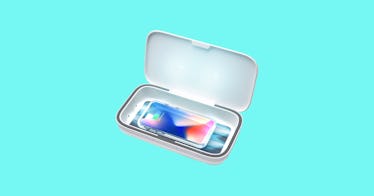 Does UV light kill the coronavirus? Probably, surmises the National Academy of Sciences, but nothing has been definitively proven to date: Most UV sanitizers have not been tested against SARS-CoV-2, although UV-C lights have been shown to destroy other coronaviruses. Still, investing in a UV sanitizer like HomeSoap for your phone can't hurt, because UV-C rays do destroy other viruses and germs, like those living on your device. Which, let's be honest, travels to the bathroom with you and is basically a five-star hotel for bacteria.
You've probably noticed quite a few sanitizers on the market, sized specifically to clean your phone.
A step up, in terms of size, from a phone sanitizer is a device that cleans remote controls, tablets, and gaming consoles, all of which harbor varying amounts of bacteria and which we, as flawed humans, routinely forget to clean.
That's where PhoneSoap's HomeSoap UV sanitizer comes in. Even before the COVID-19 pandemic made us hyper-aware of germs, PhoneSoap was generating buzz for its liquid-less method of cleaning smartphones, which was boosted by an NIH study that found that UV bulbs were an effective way of sanitizing your phone. The company's new product, the HomeSoap, scales up its method to accommodate larger devices and objects, cleaning iPads and tablets, toys, and other small items quickly and without mess so that you can get rid of germs without wiping everything down.
PhoneSoap's tech utilizes UV-C light blasted within its container to sanitize items that are often used and shared by adults and children. Internal mirrors bounce its two bulbs' rays around, so that they hit every nook and cranny. After a recommended 10-minute session, the company claims it's killed 99.9 percent of bacteria, viruses, and germs. Use it to sanitize Kindles, baby bottles, dog toys, Legos, and remotes. Basically, anything non-porous that gets heavy use.
It's big enough, at 13-by-9-by-3.5 inches, to effectively clean a variety of items at once. You see a lightning bolt when the thing is finished doing its job. You can toggle between auto mode, which automatically starts cleaning when you close the HomeSoap, and manual mode. Another great feature of the HomeSoap is its two charging ports inside the device, which allow you to recharge electronics via cables (not included) while simultaneously sanitizing them. Whether your gadget's cord needs a USB-A or USB-C connection, it's got you covered.
HomeSoap provides another small way, along with handwashing and social distancing, to make us feel like we have some semblance of control over stuff we can't see. Like germs. You can pre-order it now, and it ships on June 17.
Every product on Fatherly is independently selected by our editors, writers, and experts. If you click a link on our site and buy something, we may earn an affiliate commission.
This article was originally published on