Video Review: The Philips Avent DECT SCD570/10 Audio Baby Monitor
All the pros and cons before you enter your credit card info.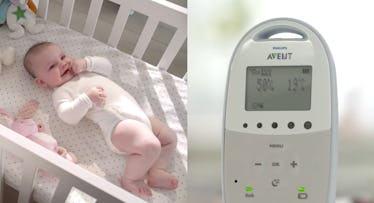 If you think children should be heard and not seen (progressive!), the Philips Avent is our pick for best audio baby monitor this year. It boasts pretty much all the same features as top-of-the-line camera monitors, sans camera, including a night light, backup battery for power outages, lullabies, and even a "cry mode," so you're only alerted to cries for attention, not farts of contentment. What did the reviewers say? Here are a few of the highlights.
RELATED: The Best Baby Monitors That Track Every Scream, Snore, And Heartbeat
Pros:
As you would expect with an audio-only monitor, the Philips Avent's high-quality sound receives high marks from both reviewers and Baby Gear Lab. In addition, the ability to adjust the mic sensitivity to filter out ambient noise is a big win.
"It reaches at least a thousand feet and sometimes more!" writes one Babies 'R' Us reviewer of the Philip Avent monitor's range. A claim confirmed by BGL's testing: "It's always nice to find a monitor that has a range that outdoes the manufacturer claim. This monitor should work up to about 1,000 feet and in our tests in managed to keep connectivity almost up to 1,100 feet."
BGL goes on to drop the aforementioned mic, saying "The bottom line is this monitor blew away the competition and left the rest of the audio products in the dust."
Cons:
Not many. Some may find the Philip Avent a bit on the high side price-wise for not having a camera, and one Amazon reviewer who doesn't like the two-way feature of the SCD570 says, "I could use this more often to speak into the monitor and calm our child, but it is a bit scary, and so we have decided to use it very rarely." What? How is a disembodied voice telling your child to go to sleep scary?
"The flashing light was close to intolerable when I was trying to fall asleep," writes another about the noise-activated light designed to let you know when your baby is crying. Much like your kid after eating a bowl of Frosted Flakes, apparently, it can't be turned off.
Finally, more than one user had issues with the parent unit not sitting squarely in the charger cradle (and as a result, not charging). And while BGL tested the Philip Avent's battery life at over 25 hours, there were a number of complaints that it didn't come anywhere near that range.
This article was originally published on