7 Outdoor Space Heaters to Warm Late Fall Soirees
Your social life, such as it is, is just starting as the summer ends.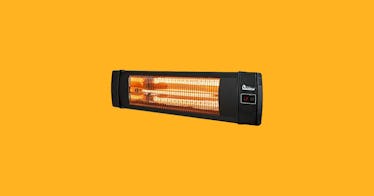 Cool nights, turning leaves, and sales on outdoor space heaters all indicate one thing: Fall is finally here. If you're not ready to relinquish the outdoors to next year, then it's time to buy one of the best outdoor space heaters out there and keep the parties going. Whether you're looking for large-area propane options or targeted electric units, we've rounded up our favorite patio heaters for every need so that you can get back to what matters: entertaining your family or guests.
Designed to warm outdoor spaces, patio heaters come in two basic types. The first (and usually the cheapest) are electricity-powered options. Whether shaped like a strip and oriented parallel to the ground or in a chameleon-like tower form, they're odor- and upkeep-free, making them great for semi-enclosed areas like lanais, sunrooms, and pergolas. They will, however, keep you anchored to your nearest outlet and rarely handle inclement weather well longterm.
The second (and more powerful) are propane-powered tower units. They're movable (some easier than others) and work better for heating large areas or customizable layouts. However, they often come with a correspondingly larger price tag and the need for propane tanks, which always seem to run out just when you want to use them most.
Every product on Fatherly is independently selected by our editors, writers, and experts. If you click a link on our site and buy something, we may earn an affiliate commission.
This article was originally published on