Bluetooth for Audiophiles? These 3 Speakers Make the Case
For truly epic summer parties.
by Sal Vaglica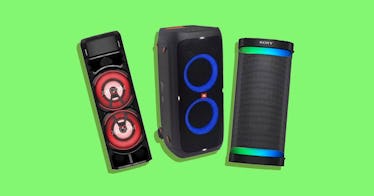 For a run-of-the-mill gathering in your yard, just about any basic Bluetooth speaker works. But if you're having a party — the sort you enunciate as "par-tay"— you'll need serious sound (or if you just want the best damn 6-year-old birthday party ever). To fill a pool party, backyard bash, or the whole block with music, you'll need to go bigger. Think: speakers closer in size to what a DJ would bring, but with the ease of use of a Bluetooth speaker.
A newer category of speakers is emerging. These party speakers can range from about 27 to 41 inches in size. Most have internal batteries that can run for hours on one charge and certainly long enough for any single party. That makes placing them in the yard easier since you won't have to worry about an outlet. They all connect to your smartphone, computer, or tablet through Bluetooth so you won't need a wifi network to use them. After the sun goes down, built-in lights strobe to add to the vibe. Bonus: with an input for a microphone, karaoke happens as fast as you can find a '90s pop hit.
Here are the best three options.
The Longest-Lasting Speaker
The Speaker that Turns You Into a DJ
The Speaker for Epic Outdoor Parties
Every product on Fatherly is independently selected by our editors, writers, and experts. If you click a link on our site and buy something, we may earn an affiliate commission.