This 'Smart' Duffle Bag Cleans Your Smelly Workout Gear
by Liz Newman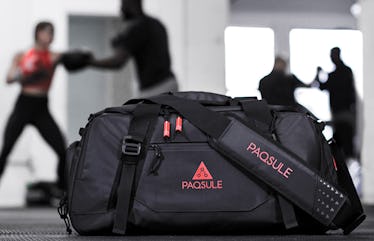 The ideal gym bag is the one that holds all your workout gear, doesn't feel out of place when you lug it into your office, and, most importantly, doesn't let the nostril puckering stank of your gym clothes escape. The Paqsule gym bag not only ticks all those boxes but also kicks it up in the stink-defending department: It magically cleans itself (and everything inside) at the touch of a button.
The key to Paqsule's cleaning ability is a chemical-free, UV-C light and activated oxygen that kills bacteria and deodorizes all your smelly gear. Simply push a large triangular button and the febreeze-free cleaning process begins. The whole thing runs off an internal battery that lasts 72 hours between charges; the bag is purportedly good for 17,000 cleanings.
Magic cleaning powers aside, the bag itself is pretty functional in its own right. It's made of water-resistant fabric, is TSA-compliant, and comes with built-in shoe/laptop compartments, as well as a USB phone charger. As you can imagine, Paqsule is cleaning up on Kickstarter. If you pre-order for June, you'll get if for $229 ⏤ or $120 off the eventual retail price. That's not exactly cheap for a gym bag, can you really put a price on cleanliness?.
(Pre-order for June 2017)
This article was originally published on