These Rugged Vans Are Built For Your Next Outdoor Adventure
You can even add bunk beds.
by Dave Baldwin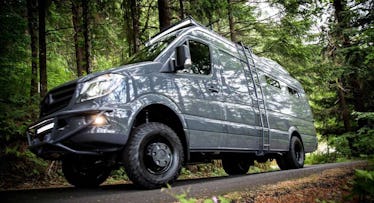 Contrary to the sage wisdom of motivational speaker Matt Foley, sometimes living in a van down by the river can be pretty damn sweet — especially, if it's only for a week during the summer. And that 'van' isn't a Mark III, but this fully tricked out family adventure vehicle.
And that is exactly what an Outside Van is: A made-to-order mobile home for outdoor explorers, family campers, and paranoids prepping for the zombie apocalypse. They come in 3 levels of customization (each more expensive than the other), and they rock edgy names like the Timber Den, the Van Awesome, and the Point Break — so, you will indeed be able to yell "Vaya con Dios, neighbors!" as you pull out of the driveway.
All ordering starts with the basic Core Line, which comes equipped with a 3-panel bed, lighting, a fully-insulated interior, and more. It runs about $48,000 without the actual van. (Yes, buzzkill alert: The vans are sold separately. You're paying just to have it customized.) From there, you choose the options: Everything from bunk beds, a drop-down TV, and a stainless-steel shower, to a full galley, rooftop A/C, and your choice of black or pinto beans.
Depending on how many slick features you add, you'll either end up purchasing the Configurable Package (which starts at $80k, and 2-to-4 months of work) or the Custom Buildout, which runs a cool $180k (again, without the van). It also takes about 6-to-12 months to complete. So while it may not be ready for this summer's adventure, at least you'll have plenty of time to work on that Chris Farley impersonation.
This article was originally published on