Everything You Need to Create an Outdoor Movie Night in Your Backyard
Including projectors, screens, popcorn makers, and, yes, bug spray.
by Berne Broudy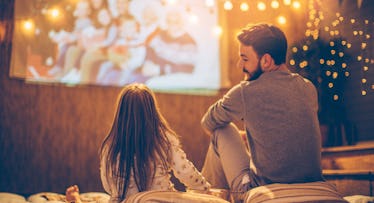 Drive-ins, save for some relics frequented by families and amorous customers, are dead. But if you have decent outdoor space, there's no reason you can't transform it into a backyard cinema. All you need is a projector, a screen (or well-hung sheet), and a few extra touches and you and the family — hell the whole neighborhood — can spend summer nights watching kids' classics under the night sky. While you can cut corners and make your own screen, there are plenty of modern options that make a cinema-like setup easier than ever. Here are some of our favorites.
Epson Home Cinema 1450 Projector
The one area you can't skimp on for outdoor movie night: the projector. The Epson Home Cinema throws out 1080p resolution and a picture that will make you forget you're sitting on the lawn. Colors are bright and vivid and the projector has a built-in 16-watt speaker if you prefer not to add an auxiliary. It connects to cable/satellite boxes, gaming consoles, Chromecast, streaming systems, and more via HDMI and MHL ports.
Marshall Stockwell Bluetooth Speaker
A portable sound system with the punch of an amp, the rechargeable Stockwell is the loudest speaker in its class. Retro analog buttons, miniatures of those on Marshall stacks, give you control of volume, bass, and treble. It's no Dolby Digital, but you'll clearly hear every note sung by The Rock when watching Moana. Just remember not to connect your phone to the speaker during the screening — cell phones can screw up backyard movie night, too.
Whirley Pop Stovetop Popcorn Popper
No movie night is complete without a bucket of popcorn. And no, you don't need some fancy electric popper. Make it the old fashioned way: on the stove with corn kernels, a tablespoon of your preferred oil, and some artificial butter flavoring. Whirley Pop has a wire that scrapes the bottom of the pan as you turn the handle to keep kernels from burning. Even better: each batch — big enough for a jumbo movie popcorn container — pops in about five minutes.
Eno Lounger DL
This portable lounger is more comfortable — and much less sticky — than your local theater seat. Two leg heights—10 inches and three inches—let you pick your most comfortable position. It has a cup holder, dual cargo pockets, and a neck-supporting integrated pillow. Even better, its shock-corded frame sets up in seconds, and it can support up to 250 lbs. When the credits have rolled, the chair breaks down and stores in a stuff sack.
Camp Chef Outdoor Super Screen 132
This portable 34-pound screen is 11-feet diagonally and offers 132 inches of total movie watching area. It's made from a reflective Oxford nylon with an ambient light-blocking backer. Not only does it make colors pop, but the nylon weave is also tight enough to not distort high-res images. The screen is supported by an 18-gauge powder coated steel frame with stabilizing guy lines and stakes that keep the wind from knocking it down.
Power Practical Luminoodle Lights
Wanna go big? A string of lights creates a festive atmosphere and ensures neighbors don't trip on their way to your yard. Power Practical's 360-lumen Luminoodle might be the most versatile and bright string of lights there is. It hangs with ties, magnets, or a utility loop, and it's powered with any USB charger. When your feature flick is over, stuff the Luminoodle into its storage sack, and it doubles as a lantern. Oh, and don't worry if it gets wet. The Luminoodle is certified waterproof to one meter for 30 minutes.
Rumpl Old Growth Puffy Blanket
This machine-washable insulated throw takes the chill off when the sun sets. Water resistant nylon on the outside beads and sheds small spills, and a light layer of sleeping bag insulation inside, stitched in squiggly patterns, adds warmth. The fabric is printed with photos of old growth trees sure inspire a nature connection with whomever is snuggled in it.
Lemon Eucalyptus Repel Bug Repellent
Mosquitoes can turn your outdoor cinema into an itchy, whiney wiggle fest. End the drama before it starts with this plant-based bug repellent. It fends off mosquitoes for six hours, and won't harm like DEET does.
This article was originally published on