The Ultimate Gift Guide For the Dad Who'd Rather Be Hiking
The holidays are all about gluttony, gorging, and masses of gifts. But for some dads, the opposite holds true: They're the ones who'd rather be hiking the Appalachian Trail, camping out at Yosemite, or simply going for a run through the nearby woods. Sure, you can get outdoorsy dads a generic pair of moisture-wicking socks,... View Article
by Donna Freydkin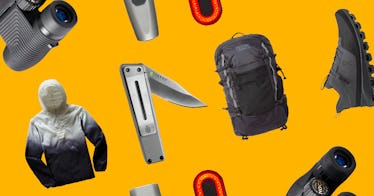 The holidays are all about gluttony, gorging, and masses of gifts. But for some dads, the opposite holds true: They're the ones who'd rather be hiking the Appalachian Trail, camping out at Yosemite, or simply going for a run through the nearby woods. Sure, you can get outdoorsy dads a generic pair of moisture-wicking socks, or a headlamp for night bike rides. But we're thinking he'd definitely appreciate a killer pair of running shoes, and a lightweight jacket to match. Here goes.
Why this sherpa jacket? Because you get a nylon wind guard on the zipper placket, reinforced neck hem for a proper collar fold, and zippered hand pockets for added warmth.
James Brand makes the most gorgeous EDC we've ever used. This serrated knife is no exception. It's 6.5 inches in overall length, and has titanium frame-lock construction. The knife's S35vn stainless steel blade holds an edge and will last him forever.
Where do we even begin with these beauties? They're created for all-day wear and all-day comfort. But. But. The brand's CloudTec outsole structure cushions both horizontal and vertical forces to give dad the perfect run, both in terms of padding and support. Plus, here's another fancy term: Speedboard turns the force of running into forward motion. The shoes also have a dual-density sock liner so they're breathable. Translation: Feet that won't stink.
The Beryl laser light projects a bike symbol six meters in front of you so you know where you're going, always. And the burner brake is a back light that gets brighter when you slow down, giving cars ample warning that you're there. They're both waterproof and durable. Both are charged using USBs, and have insane battery life.
With these top-notch binoculars, you get 8x magnification, which is the equivalent of a 400 mm camera lens. They're submersible for up to 30 minutes and they're fog-proof. So if dad spots a moose in the distance, he'll see the beast up close.
Don't weigh dad down when he's hitting the trails and arm him with this backpack, which weighs just one pound. But don't let its lack of heft fool you: This thing will go the distance, given that it's made from 100D CORDURA mini-rip fabric with high abrasion- and tear-resistance.
Every product on Fatherly is independently selected by our editors, writers, and experts. If you click a link on our site and buy something, we may earn an affiliate commission.
This article was originally published on