OtterBox's New Coolers Can Reportedly Keep Drinks Cold for Two Weeks
Not only that, but you can drop them off a cliff.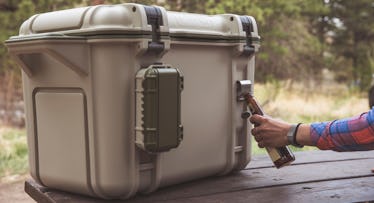 Otterbox already knows how to protect your electronics; now it wants to protect your beer. The Colorado-based outdoor gear company, acclaimed for its rugged smartphone cases and dry boxes, just unveiled a debut line of high-end coolers that are not only bear-resistant and built to withstand the nastiest of drops, but can also reportedly keep drinks cold for up to two weeks.
Known as the Venture series, Otterbox's coolers come in three sizes (25-, 45-, and 65-quart) and three colors (blue/white, tan/green, and camo). They feature fixed handles, anti-slide rubber feet, and heavy-duty latches. Even better, they're modular and can be tricked out with cutting boards, wheels, drink holders, and a dry storage tray. There's even a clip to attach a separate dry box for more gear.
The insulated interior is equally as alluring: In addition keeping ice solid for up to 14 days, it also includes a slanted bottom for easy drainage and a system of dividers (sold separately) to ensure the beer never touches your fresh bear meat. Speaking of beer, all three models come equipped with a bottle opener.
Ruggedized coolers are already a crowded market, with the likes of Yeti and Grizzly offering similarly burly options aimed at outdoorsmen. The Venture series will enter this cold war next month.
This article was originally published on