The Self-Standing Osprey Radial 34 Backpack is The Best Dad Bag I Own
It's tough, holds everything my family needs, and stays upright on its own. It also does a decent job preventing back sweat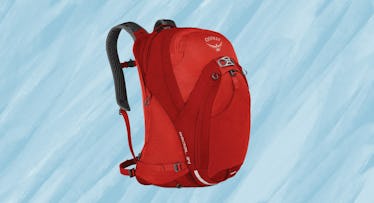 Trying to get out of the house for a day of adventure can take as long as the adventure itself. Or at least it feels like it. My solution: utilizing one backpack to carry everything my family needs to get out of the house/hotel/Airbnb. Sure, I'm usually the dromedary for the day, but hauling all the snacks, toys, travel necessities, and whatever else is a small price to pay for the stress-saving simplicity of only having to worry about one bag. And for me that one bag is the Osprey Radial 34.
My wife, daughter, and I just finished up three weeks in Italy, and I hauled the Radial 34 everywhere we went. The "34" in the Radial 34's name refers to its carrying capacity of 34 liters. for almost all day outings, the Radial hits the sweet spot of pockets: enough to separate the electronics from the less delicate stuff, but not so many that you lose gear inside the pack. There's a mesh pocket on the outside that can hold a haul a small, towel and underneath that there's are two separate shoe pockets capable of holding a pair of sneakers as well as a couple of pairs of flip flops, each pocket with a big enough opening that cleaning sand out of them is easy.
Since the bag includes mesh suspension where it touches your back and ventilation on the shoulder straps, my back and torso stay relatively dry. In a press release, Osprey claims this allows the "pack to be sweat-free." I wouldn't go that far, but I'm also the guy who starts perspiring at yoga before most of the other yogis have removed their extra layer.
But, the reason I really love the Radial 34 is that it stands up on its own. Literally. Osprey calls this tech a "Kickstand," but that's misleading because there's no protruding kickstand. The base of the pack includes an internal frame, which allows it to stand up when you set it down, keeping it cleaner, easier to load, and easier to dig around in.
There's a smaller front organization pocket perfect for a few sets of earbuds, a phone, small note book, as well as a set of keys that's secured with a plastic clip. The primary pocket also includes a few organizational mesh pockets and a separate sleeve for a laptop and tablet. Since the lining is a mix is neon yellow, finding what you're looking for is easy, unlike packs with dark linings. Even though I've been using the Radial 34 almost daily since its release last fall, it still looks clean.
Osprey makes the Radial 34 in two sizes, S/M and M/L. We have the latter, and even though at 6'2", my torso is much taller than my lady's, who is 5'5", she has no problem using the pack, thanks to quick adjusting shoulder harnesses as well as hip-beltand sternum strap.
The sunglasses pocket, made from scratch-free fabric as well as the hidden pocket with a retractable key chain are nice touches and perfect for users who use the pack for its intended use of bike commuting. And the external water bottle pocket is large enough for 1.5-liter bottles.
With an MSRP of $250, the bag isn't cheap. But REI's regular price for the Radial 34 is $170, and it's currently on sale for $126.73. So, if you're looking for a bag that can save you some frustration and also double as a great bike commuting bag or even mountain bike or ski pack, the Radial 34 is a solid choice.
This article was originally published on