Organizations Warn Parents About Snapchat's New Feature
Snap Maps is universally unsettling.
by James Wohr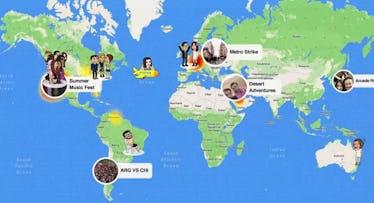 Social media's main purpose is to bring kids, families, and friends together. But Snapchat is taking that goal to near-Orwellian levels. The company recently released a new Snap Map feature, which through geolocation allows followers to see where exactly you are whenever the app is on. Parents are rightfully concerned about the privacy implications of the feature.
Through geolocation, Snap Map lets you see your friends' Bitmoji icon on a map. If the setting is activated, it'll do the same for you. You don't need to be an IT professional to understand the inherent danger of that: since many people have followers they don't know in real life, this feature opens all users up to the possibility of getting stalked or worse. Snapchat has released guides for parents on how to turn on "Ghost Mode" to keep their kids safe, but of course many are wondering why the app made this a feature in a first place.
In fact, dozens of outlets all over the world are issuing out warnings to parents, highlighting the dangers of the feature and telling them not to let their kids use it. Well, at least SnapMap accomplished something: unifying the media.
Here are some of the many, many outlets that have issued warnings.
Boston Globe
Alabama News
Pauline Media Studies
ABC News
WGN-TV
CNN
USA Today
San Mateo PD
Manchester Evening News
12 News WBNG
WCSH6 Portland
TristateHomepage.com
WTOP
My San Antonio
The Canadian Press
For Every Mom
Mirror
Independent
Good Housekeeping
POPSUGAR Moms
EastTexasMatters.com
KSWO
Baby Center Blog
WCYB
TripWire
ChicagoNow
BBC News
CBS New York
KRISTV
FOX 4 Now
NY1
AZTV 7
Coventry Telegraph
Parents
Future Tech Studio School
News 12 Long Island
WXYZ Detroit
Sioux City Journal
Wicked Local Lincoln
KFVS12
Plymouth Herald
1011 Now
The Week
The Scottish Sun
Daily Record
Birmingham Mail
Wales Online
CBC News
TECH2
The Star
NewsLetter
This article was originally published on