Oprah, Reese Witherspoon, and Mindy Kaling Are All Getting Their Own Barbie Dolls
Mattel is rolling out a new line of 'A Wrinkle in Time' collectors' dolls made in its stars' likeness.
by Ben Marx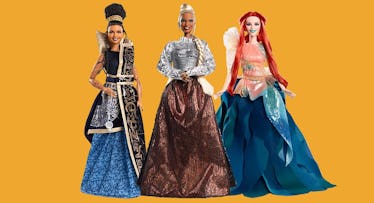 To celebrate the upcoming release of Disney's A Wrinkle in Time, Mattel put together an incredible line of three collector's edition Barbie dolls based on the film's lead supernatural beings, Mrs. Which, Mrs. Whatsit and Mrs. Who, played by Oprah Winfrey, Reese Witherspoon, and Mindy Kaling in the film.
The Wrinkle in Time Barbies aren't just cool collectibles, they also represent a sincere effort on Mattel's part to diversify its kids toy and dolls line and bring stronger representation to the toy industry. Ava DuVernay, the film's director, hit the nail on the head with a tweet about what the new Barbies mean to her, writing: "When Disney makes Barbies of your movie's characters and you just want to stare at them all day in disbelief because you loved Barbies as a girl but never had any like these."
The new collection builds off of other Mattel efforts to bring more diversity to its toys, including Barbie's "Shero" series, which highlights role models for young girls by creating Barbies in the likeness of remarkable women, like Olympian Ibtihaj Muhammad and plus-size model Ashley Graham.
Each doll comes with its own stand and a Certificate of Authenticity, and all three are available for pre-order for $50 each. The Barbies will officially hit shelves on February 23, just a few weeks before A Wrinkle in Time's release on March 9.
This article was originally published on