One Dad's Must-Haves For Moving Family Fun Outdoors This Spring
This story was produced in partnership with Walmart. ADVERTISEMENT Spring is synonymous with warm breezes rustling the leaves, the comforting buzz of lawn mowers starting back up, and the collective sigh of relief from parents everywhere as they can once again send their kids outside to play. No one knows this feeling better than Peter... View Article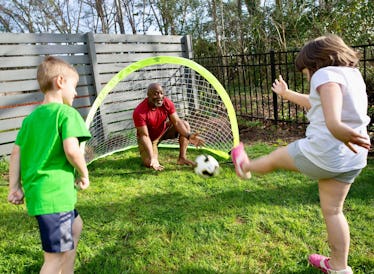 This story was produced in partnership with Walmart.
Spring is synonymous with warm breezes rustling the leaves, the comforting buzz of lawn mowers starting back up, and the collective sigh of relief from parents everywhere as they can once again send their kids outside to play. No one knows this feeling better than Peter Mutabazi, a father of four who uses his social media presence to share his family's journey from foster to adoption, spotlighting the wild but wonderful ride that is single fatherhood. When it comes to getting kids of all ages and stages to unplug and get outside, Mutabazi knows how crucial it is to find ways to make it happen.
"The outdoors truly brings out [my kids'] playful spirits," Mutabazi tells Fatherly. "It can be cramped indoors with a large family, and [backyard time] is an opportunity for us to get out and stretch our legs."
His trick to getting the whole crew excited about soaking up the sun and fresh air? Providing them with plenty of options, and then: playing right along with them. Whether the main focus is a sprinkler for those blisteringly hot days or a soccer set to encourage a little friendly competition, Mutabazi notes that the right gear can make a world of difference. "The kids are often [more inclined] to play outside if I provide an activity or a toy. And when parents are willing to get out and play, the kids are always more excited to go, so I make sure to get outside with them."
If you're worried you don't have the perfect space for creating outdoor fun, Mutabazi recommends keeping an open mind. From his point of view, a pristine, picture-worthy play space is not a prerequisite for quality family time — all it takes is the right mix of outdoor products, and any old yard can become the stuff that adventures are made of. "Our yard is not for show," Mutabazi admits. "It is definitely well-loved and we use it to its fullest."
And when you have a family as big as Mutabazi's, finding accessible products that provide maximum entertainment is key. That's why he turns to Walmart — the brand's backyard play roundup is a great resource for parents looking for ideas that inspire family togetherness and unforgettable memories. Keep reading for a glance at the budget-friendly finds this dad has on deck to keep his family occupied all the way 'til fall.
Shop backyard play products!