Omnio Is A Full-Sized Stroller That Folds Into A Backpack
by Dave Baldwin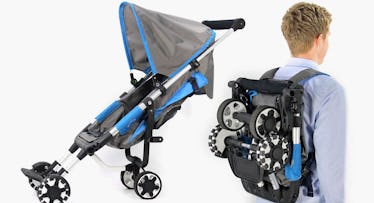 It's an all too common quandary when traveling with a toddler: Roll with an ultra-light but flimsy umbrella stroller (that'll certainly struggle on those bumpy cobblestone piazzas), or haul your rugged but unwieldy convertible through airport security. Neither scenario has you excited about skipping town. But you know what will? A full-sized stroller that folds up into a backpack.
Yes, one really exists. It's called the Omnio, and it's made in Britain to carry kids 6-months to 50 pounds (or around 5-years-old). Even cooler, the same padded shoulder harness used to strap that 5-year-old in doubles as backpack shoulder straps that allow you to sherpa the Omnio around town. It collapses to a compact 21-inches by 16-inches by 11-inches, the wheels pop-off, and it weighs 16.5 pounds. And speaking of wheels, they're all-terrain, omnidirectional tires that roll sideways without having to swivel ⏤ making it even easier to steer. They're also covered by mudguards, just hopefully not ones that show Yosemite Sam peeing on a Graco stroller.
In terms of amenities: the Omnio boasts a detachable all-weather hood with UV (UPF50+) protection, reclining seat that can be removed for cleaning, telescoping handle, zipped main seat pocket, and a central foot brake pedal. There's a 6-point harness with an adjustable chest strap (that works for both for the kid and you), and a handy waterproof travel bag. You can also trick it out with attachable bags (stroller, changing, or insulated bottle), all sold separately.
The Omnio comes in 3 colors (black, red, teal) and is currently available for pre-order. Even better, it ships in a couple of weeks, meaning your big summer vacation quandary won't be which stroller to bring but which flavor of gelato to order.
This article was originally published on