Octopus Watch Reminds Kids About Their Daily Schedule So You Don't Have To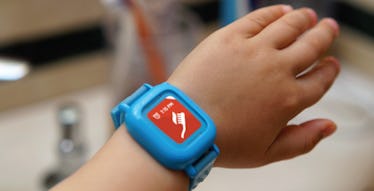 Because few things are more frustrating as a parent than a toddler who consistently shows up late to family meetings (did we say 8 or 8:30?), Octopus by Joy is a colorful, icon-based smartwatch for kids who can't tell time. But, now that telling time is one of those future skills they'll need as much as long division, it also teaches them about scheduling and getting life stuff done. You know, the fun part!
The watch itself couldn't be simpler: It comes pre-loaded with 600 icons that represent daily activities — from "Wake Up" to "Brush Your Teeth," to "Feed the Fish." Parents can program their kid's schedule via the app for iOS and Android, so when it's time to "Eat Breakfast," the cereal-bowl icon lights up to let them know. (There doesn't appear to be anything "Get Dad A Beer," however.) The Octopus Watch has a vibrating alert, so even if your 3rd grader ignores the flashing light, he has no excuses for forgetting to pick up the dry cleaning.
As you now by know, getting kids to do stuff is always easier when you make it a game. The Octopus Watch rewards them with points every time they hit the button after completing a task. Ironically, it's pretty easy to game that system. Aimed at 3-to-8-year olds who are just establishing a daily routine, you can go pre-order one now (earlier pre-sales are all sold out). Then keep watching your mailbox until March 2017. If your kid asks how they're going to remember when it's coming, just look down at your watch and say "ooh, look at the time!"
This article was originally published on