This Kids' Couch Doubles as a Pillow Fort
by Dave Baldwin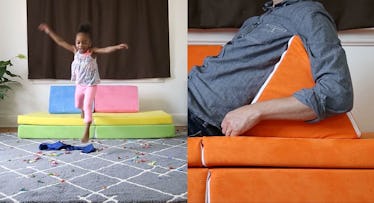 The best kids' couch is a couch that lets kids be kids. Meaning, they can hang out on the kids' sofa, spill drinks, throw cushions around, and maybe, just maybe, use them to build a fort.
One such kids' couch is the Nugget, a 4-piece, portable couch for kids. It's made of open-cell foam (covered by a soft, washable microsuede fabric) and designed to withstand whatever they throw at it. Literally. They claim it's unbreakable, so hurl away! It's comprised of a base, mattress, and 2 triangular-shaped pillows (equilateral, if you're quizzing them on geometry) that are unconnected for easy mobility.
And while the Nugget is one couch option for kids, we another one that's equally cool. The last thing they'll do is turn your kid into a coach potato.
Every product on Fatherly is independently selected by our editors, writers, and experts. If you click a link on our site and buy something, we may earn an affiliate commission.
This article was originally published on