Now's the Time to Buy That Expensive Canon DSLR You Always Wanted
The company's knocking up to $450 off select models for Columbus Day.
by Dave Baldwin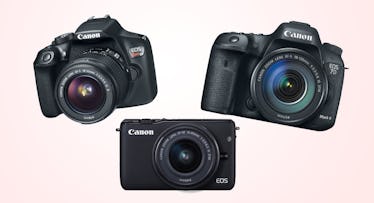 There's no denying that smartphones take nice pictures. They're also simple to use, always at hand, and can hold a hundred adorable photos of your daughter eating dirt better than your wallet. But there is a reason smartphones haven't put the big camera companies out of business yet: fancy cameras ⏤ both pocket-sized and DSLR ⏤ take ridiculous pictures. They just do. It's science.
The problem is, however, and ask any parent who's debated buying one, they cost a fortune. You have to leverage your kids 529 plan for a studio-quality holiday portrait or Halloween shot of Junior dressed up like Darth Vader. So when one of the camera companies starts knocking $450 off select models, like Canon is doing right now for its huge Columbus Day sale, it's worth having a discussion about family finances.
RELATED: The Best Digital Cameras
Now just to be clear, all of the marked-downs are on refurbished models. Which means they've been overhauled, are factory-certified, and ship out looking brand new. If you've ever purchased refurbed electronics before, then you know it's a smart way to score insane deals on practically new gear. Still, some consumers have a weird aversion to buying quasi-used. They should consider themselves informed.
ALSO: This Ultra-Compact Camera Gets Up Close and Personal From the Bleachers
For everybody else, there are almost 30 cameras, lenses, and accessories on sale through the weekend, ranging from the $150 PowerShot SX530 all the way up to the $2,700 EOS 5DS, which's been marked down $260. And while there's definitely something for every budget in the mix (click here to see the full lineup of sale cameras), here are three worth noting:
EOS Rebel T6
Pitched as the ideal starter DSLR for serious phone camera users, the T6 boasts an 18.0-megapixel image sensor and a "Scene Intelligent Auto" mode so you still don't technically need to know what you're doing to use it. It's also got built-in wifi and NFC for quickly getting those shots up on social media.
EOS M10
For those who want to upgrade their pictures but aren't interested in lugging a big camera around on vacation, the M10 is a lightweight 18.0 megapixel point-and-shoot that's actually compatible with some of Canon's DSLR lenses. Plus, its Self Portrait mode smoothes your skin and "artistically blurs backgrounds" so your selfies will still look stunning.
EOS 7D Mark II
The Canon 7D Mark II is for the amateur photographer thinking about turning their skills into a side hustle. It's got a 20.2- megapixel sensor, dual card slots for both CS and SD, and the ability to shoot up to 10 frames per second at ISOs ranging from 100–16000. Also, it's currently $240 off.
This article was originally published on