Now You Can Have Your Entire House Recreated in Lego
This new Etsy shop offers to build a scale model of a home out of bricks, including the inside.
by Ben Marx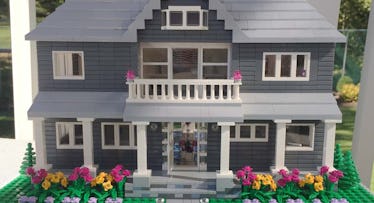 Etsy/ LittleBrickLane
Almost 60 years after Legos first hit shelves, builders are still finding new, ingenious uses for the toy bricks. Case in point: this new Etsy shopped that just popped up, which promises to perfectly recreate your house in miniature, brick form.
Shari Austrian, builder extraordinaire, set up LittleBrickLane to turn a complete set of architectural plans or detailed photos into a model of your home's interior and exterior. That means that not only will she recreate your front yard as close to the real thing as possible with grass and flowers, but she'll also deck out individual rooms to look like the real thing. There's no mention if she'll create mini-figs that look like everyone who lives in your house, but that's certainly an option you can pursue on your own.
According to Austrian, LittleBrickLane models are built on 48 by 48 stud base plates (15 inches by 15 inches), weigh between 25 and 35 pounds, and take about 8-10 weeks to complete. Her models don't come cheap. Pricing is $1.25 times your home's total square footage, which means that a 3,000 square foot home would cost $3,750. But that money goes a long way to preserving your abode in semi-permanent, cubic form.