This Remote-Controlled Land Rover Is Ready to Rumble
The fully-licensed Traxxas TRX-4 Scale and Trail Crawler could easily pass as a clone of its full-sized inspiration
by Ben Marx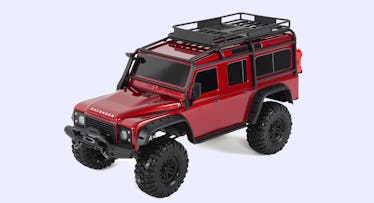 Who doesn't dream about clutching the wheel of a classic Land Rover, heading over to some craggy patch of earth, and letting those shocks do their thing? There's just something visceral about the whole thing, isn't there? Too bad the SUV costs a bit more than a station wagon and isn't how they say practical. Luckily, the remote-controlled car gurus over at Traxxas released the TRX-4 Scale and Trail Crawler. Though slightly smaller, the neurotically crafted toy lets you get off the beaten path without throwing down your mortgage payments.
The detail and design are so intricate that, up close, the fully-licensed Land Rover TRX-4 could easily pass as a shrink-rayed clone of its full-sized, 4×4 inspiration. But in exhaustively duplicating a Land Rover Defender at a hundredth the size, Traxxas has managed to create a remote-controlled car that miraculously retains some of the most badass features of a real off-road vehicle.
Like its namesake, the scale model is built for off-road terrain and extreme obstacles and features an innovative portal axle set that lifts the truck for ground clearance. Other heavy-duty perks include remote-locking front and rear differentials, high/low range transmission, GTS Aluminum Shocks, and steel frame rails. The components are all waterproof, too, so wet adventures pose no threat to the electronic innards. All in all the heavy duty toy weighs less than eight pounds. Who's up for some off-roading?
This article was originally published on