Now There's an Easy Way to Shop Stage-Specific Toys Picked by Child Development Experts
A team of experts test and recommend the right toys for your child's unique stage.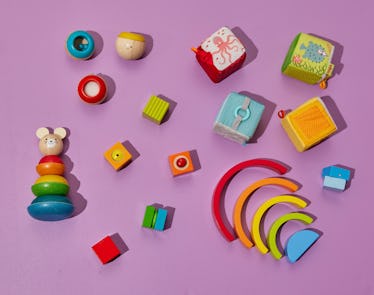 Ten Little
This content was produced in partnership with Ten Little.
Any parent knows how challenging it is to find the right toys for your child as they grow — not to mention sustainable, enriching ones that hone developmental skills. Sure, any plastic toy might keep a child's attention initially, but finding the right variety that also keeps kids interested, curious, and learning for the long haul can be a real problem for parents. With Ten Little, there's an easy way to shop for toys geared for your child's developmental stage, recommended by experts.
Ten Little's personalized platform makes shopping incredibly easy, offering vetted toys that you can feel good about buying. They have worked with the best kids' brands to curate high-quality, non-toxic, and sustainable toys that are designed to grow with kids. A simple quiz on the website helps parents understand their child's unique stage. The answers result in your "shop" full of stage-specific toy recommendations, along with developmental insights — think of it as a customized playlist for your kid.
Ten Little's open-ended toys are designed for babies to 6+ years old. The selection consists of puzzles, games, building toys, books, and adventure kits intended to stimulate a child and keep them learning at every step. Before Ten Little offers a new product, it must survive a gauntlet of parents, teachers, and medical professionals. These testers evaluate the toy's ability to foster brain and body development, hone fine and gross motor skills, encourage creativity, and work on hand-eye coordination. They also assess a toy's ability to grow with kids and remain stimulating through multiple stages — like a puzzle that is also a memory game.
Here are a few worth considering.
Sensory Tumbling 3 Piece by PlanToys
Each of these 2 ½-inch round rubberwood balls is filled with a different sensory element. Small hands can grip the red one and touch fluffy fabric, the blue one to hear a ball bounce off clear plastic, and the yellow one to see a reflection of themselves in a mirror. Buy Now: $25
3-in-1 100 Piece Jungle Puzzle by Floss & Rock
Build two separate 12-piece puzzles — one with giraffes and the other with crocs — then join them to the larger 76-piece ark. The perfect way for a family to work up to a big 100 piece challenge. Buy Now: $26
Marble Run by Miniland
At first, what kids will see with this colorful mix of 41 plastic parts are marbles zooming around the course they built. But you'll notice them developing visual and spatial skills, logic and math, and developing an understanding of how movement works. Buy Now: $22.99
When you make purchases through FamFare, Fatherly may earn an affiliate commission.
This article was originally published on