Finally, Ultra-Fresh Dog Food That's Good For Your Good Boy — & You Can Try It Now For 50% Off
We only recommend products we love and that we think you will, too. We may receive a portion of sales from products purchased from this article, which was written by our Commerce team.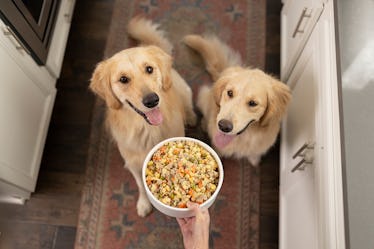 nom nom real fresh dog food
Last week, we introduced our kids to the classic masterpiece of a film, Homeward Bound. It sent me through time on a wave of nostalgia led by the voices of Sally Field and the time traveler himself, Michael J. Fox. Back to a simple time, when we checked out VHS tapes from the library, and according to Chance, "Kibble! Kibble! Kibble!" was the crème de la crème of dog food. (Well, that and wedding cake.) If only Chance knew that those dry pellets of questionable ingredients were the exact opposite of the modern crème de la crème for good boys, Nom Nom food for dogs. Nom Nom is revolutionizing pet food and health by making it clear to dog owners exactly what their dogs are eating. (If a reboot ever comes, I fully expect modern-day Chance to pant "Nom Nom! Nom Nom!" on his triumphant return home.)
Nom Nom's subscription meals are made of fresh, whole foods without any fillers. Each recipe is formulated in-house by board-certified veterinary nutritionists and they take it a step further by preparing meals sensitive to your dog's unique nutritional requirements.
And right now, Nom Nom is offering Fatherly readers 50% off a 2-week trial offer by signing up here.
Fast Facts
Nom Nom food for dogs is made of whole ingredients tailored to your dog's life stage and portioned for their health goals. The food is made in the U.S. and mixed with a proprietary blend of essential vitamins and minerals.
Meals are tailored for weight loss or weight gain goals by taking into account your pet's age, weight, and activity level, which helps determine their approximate metabolism and caloric needs.
When you subscribe, your pet receives a personalized meal plan with health insights formulated by a team of scientists.
Nom Nom delivers individual, pre-portioned meals prepared just days before and offers free shipping in the U.S.
How It Works
It all begins with you answering some quick questions to create a profile for your pet and from there, Nom Nom will help you build a personalized meal plan. Once you order, meals are prepared with fresh ingredients and packed in individual portions so all you have to do is open and serve; the meals are packed cold and delivered to your door.
If you choose to take it a step further and subscribe, your meal plan will grow and change with your dog, always adapting to their specific needs. You can mix and switch up recipes anytime you (or your dog) wish. And you'll have access to health reports to give you insights into your pet's weight, and gastrointestinal and joint health.
Nom Nom Recipes: What's Inside
Nom Nom recipes are a combination of real food and essential vitamins — it's simple and yet removes all the guesswork when it comes to feeding your pet(s) well. And since ingredients are cooked individually and then mixed, you actually see all those great ingredients. Or as the brand says: "Beef looks like beef and the peas look like peas." Here's a peek at some of the whole ingredients used in the recipes:
Beef Mash: a combo of ground beef, russet potatoes, eggs, carrots, and peas
Chicken Cuisine: diced chicken and sweet potatoes are mixed with squash and spinach
Pork Potluck: ground pork is served alongside russet potatoes, green beans, squash, kale, and cremini mushrooms
Turkey Fare: a combo of ground turkey, brown rice, eggs, carrots, and spinach
What Dog Owners Are Saying About Nom Nom
"Nomners" report seeing changes for the better in their beloved pets just weeks into serving Nom Nom, especially when it comes to excitement at mealtime. And in the weeks and months to follow? Reviewers reported better breath, increased stamina, shiny coats, healthy weights, more energy, and the true test of a healthy meal — a healthy poo!
Here are a few standout reviews from verified reviewers:
"Jones is a rescue and he came to us with a *very* sensitive stomach. Since starting Nom Nom, his stomach has been doing well, and I didn't think his fur could get any softer."
"Mya has suffered from colitis & IBS for many years, and she's also the pickiest with food. Since being on Nom Nom she is eating much better & has perfect poop!!!"
"My dog loves Nom Nom. We do half kibble and half wet food from Nom Nom and it gets him to eat his entire meal. Customer service has been great, even reaching out proactively when one of the flavors was out to see which other flavor they should send."
Browse the full selection of recipes and get 50% off your 2-week trial offer here.
This article was originally published on