Nintendo's Super NES Classic Finally Hits Stores Today
Here's what you need to know about the release.
by Dave Baldwin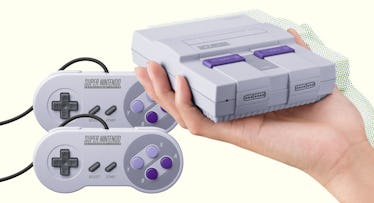 The day is finally here. Nintendo's highly anticipated miniature Super Nintendo Classic officially goes on sale today. In some select locations, it was released last night at 12:01 am. And despite assurances from Nintendo executives that consoles will actually be available in stores this time, fans should probably expect a similar clusterf&*k to last year's NES Classic Edition release or last month's disastrous online SNES pre-order. Neither of which went off smoothly. At the very least, expect the new systems to fly off the shelves and/or be gone by the time you pull up to your local Target at lunch.
That said, if you're thinking about making a run, here's what you need to know:
What is the Nintendo SNES Classic?
First, the limited-release $80 SNES is essentially a pint-sized version of the classic 16-bit system that debuted in 1991, and it's pretty damn sweet. It fits in the palm of your hand, connects via HDMI, and comes with two controllers that are almost identical to the originals. More importantly, this time the cords are long enough (unlike that on the NES Classic controller) that nobody's forced to sit on top of a 60-inch flatscreen when they play Donkey Kong. And speaking of, the new SNES comes pre-loaded with 21 games (compared to 30 on the NES Classic) including Super Mario Kart, Street Fighter II, and Super Punch-Out!!. Not only that, but beat the first level of Star Fox, and … Bam! … you can play the brand a never-before-released version of Star Fox 2.
For the record, while the power and reset buttons on the new system work, the eject does not. And that's because there's no working cartridge slot ⏤ you only get the games that are built in. And while Nintendo may end up releasing new downloadable games later, don't buy the new SNES thinking you're going to play Madden '95, because you can't.
Where can I buy the Nintendo SNES Classic?
Second, it's being sold on Amazon and at six brick-and-mortar stores — well, seven if you count Nintendo World Store NYC: Best Buy, Walmart, Target, GameStop, Toys 'R Us, and ThinkGeek. According to CNET, all retailers have confirmed that units will be in stock but how each handles first-come-first distribution varies; some will be passing out tickets to those waiting in line before doors open.
Will the Nintendo SNES Classic sell out quickly?
Third, you'll probably want to give your specific retailer a call before heading over, just to make sure they still have units in stock and aren't cleaning up from a massive 12:01 am riot last night. It can't hurt. Assuming they are sold out, though, you can at least take comfort in the knowledge that ⏤ despite similar scarcity issues last year with the NES Classic ⏤ Nintendo recently announced a second production run for 2018. So, you never know, you could get a second chance to relive the golden years of Super Mario Kart.
Updated: September 29, 2017
This article was originally published on